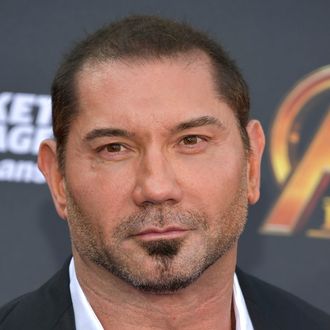 Dave Bautista.
Photo: Neilson Barnard/Getty Images
After director James Gunn was fired from Guardians of the Galaxy Vol. 3 last month due to past offensive tweets, his cast published an open letter "fully supporting" him and expressing gratitude to fans calling for Gunn to be reinstated. Perhaps the director's most vocal defender among his now-former cast is actor Dave Bautista. On Sunday, the former WWE star responded to a tweet asking what he'll do should Disney decline to rehire Gunn for the film. While he notes that he's required to be in the movie, Bautista finds the prospect "pretty nauseating."
"I will do what Im legally obligated to do but @Guardians without @JamesGunn is not what I signed up for. GOTG w/o @JamesGunn just isn't GOTG," replied the actor. "Its also pretty nauseating to work for someone who'd empower a smear campaign by fascists #cybernazis. That's just how I feel."
The person primarily credited with unearthing and trumpeting Gunn's past tweets, which joked about topics like pedophilia and sexual assault, is alt-right social-media personality Mike Cernovich. Gunn subsequently took "full responsibility" for the jokes after they emerged, but was fired from the film nonetheless. A new director for Guardians 0f the Galaxy Vol. 3 has yet to be announced.