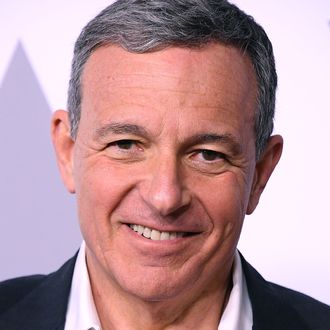 Robert Iger.
Photo: Steve Granitz/WireImage
As Disney slowly absorbs all of Fox's content and ends several licensing deals over the next year, a new streaming service will rise. Disney CEO Bob Iger walked investors through the company's planned streaming venture today, and as Variety reports, it's set to arrive near the end of 2019. Iger indicated the service might end up being cheaper than Netflix, due to the fact that its library won't be as large. But not to worry, that library is going to include everything from Disney's live-action version of Dumbo to Captain Marvel to the next Avengers movie. Disney is even making content exclusively for the service, including the upcoming live-action version of Lady and the Tramp. It'll be worth whatever it costs just to see how they get real dogs to eat spaghetti that gracefully.
Iger also said they plan for Pixar, Marvel, and Lucasfilm to contribute content, but that any Star Wars movies made before 2019 will not initially be included due to licensing deals. But, honestly, if you need to re-watch those movies that much you should probably just buy them on DVD. Seriously. They sell them in sets. Calm down.