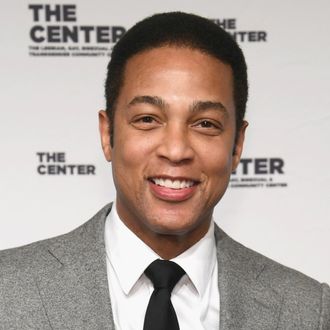 Don Lemon.
Photo: Dimitrios Kambouris/Getty Images
On Friday night, President Donald Trump gave a Guinness Book of World Records-level backhanded compliment to Don Lemon's interview of NBA star LeBron James, referring to the CNN journalist as "the dumbest man on television" and expressing surprise that Lemon managed to make James "look smart, which isn't easy to do." All of which indicts the president actually liked the interview, but could only express that sentiment in the most personally insulting way possible, presumably due to his vocal hatred of CNN and the choice words Don Lemon has used for Trump in the past. The president ended his tweet with the seemingly unrelated exclamation of "I like Mike!" Many on Twitter are taking it to be spontaneous praise of Michael Jordan, which makes about as much sense as anything else, we guess.
Lemon responded to Trump's tweet this morning with a nod to First Lady Melania Trump's campaign against bullying. "Who's the real dummy?," the CNN anchor tweeted Saturday. "A man who puts kids in classrooms or one who puts kids in cages? #BeBest." The focus of Lemon's interview was the school James has recently opened in Akron, Ohio, for disadvantaged children. Trump tweeted his LeBron venom a day before making a trip to, you guessed it, Ohio.