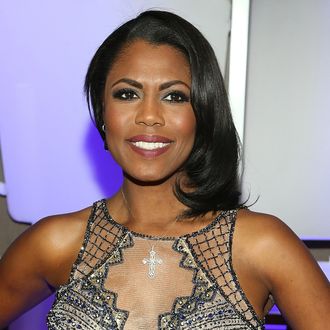 Omarosa Manigault.
Photo: Paul Morigi/Getty Images for MGM National Harbor
The rise and fall of Omarosa Manigault as a reality TV villain, Trump administration employee, reality TV villain once more, and tell-all author has been, well, interesting to see unfold over the past decade, which will be culminating on August 14 when Unhinged: An Insider's Account of the Trump White House is released for all the world to see. Omarosa already dropped a few crumbs about her time at the White House, mostly likening it to a plantation and insisting it's full of horny people. But in the first excerpt of her tell-all obtained by the Daily Mail, Omarosa discusses President Trump and how his mental state has sharply declined since taking office.
That realization, she writes, came to her when Trump sat down with NBC's Lester Holt for an interview in May 2017, when the men discussed James Comey's recent firing from the FBI. "While watching the interview I realized that something real and serious was going on in Donald's brain," she wrote. "His mental decline could not be denied. Many didn't notice it as keenly as I did because I knew him way back when. They thought Trump was being Trump, off the cuff. But I knew something wasn't right." She also believes the president "rambled," spoke "gibberish," and "contradicted himself from one sentence to the next," despite being briefed numerous times by former press aide Hope Hicks. Protégé no more, we think.