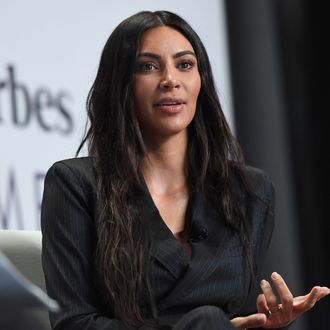 Kim Kardashian.
Photo: ANGELA WEISS/AFP/Getty Images
Kim Kardashian, who definitely did not get played by Donald Trump when the duo met at the White House earlier this year to discuss prison reform, continues to remain on the forefront of the president's mind. Per a video obtained by NBC News, Trump used a portion of his speech at a Republican fund-raiser in Columbus, Ohio, on Friday to dump continued praise on Kardashian and her husband, dragon energy enthusiast Kanye West, for how good they are for his popularity in the country. "All of a sudden those numbers started going up, up, up, and we did great," Trump explained. "Now we're doing great and Kanye West liked me. And that really lifted my [numbers]." West has publicly praised Trump on many, many occasions and his love is still going strong, with Kardashian seemingly sharing similar ideology. "I have nothing bad to say about the president," she recently put it on Jimmy Kimmel Live!
But enough of their opinions. Because Trump wasn't finished. "Kanye West has some real power!" he continued in his speech. "And he's got a good wife too in Kim, I'll tell ya. She really is. She did a great thing, a great thing." Alice Johnson certainly would agree, even if it meant Kardashian having to endure one of the worst photo opps of her career in the process.