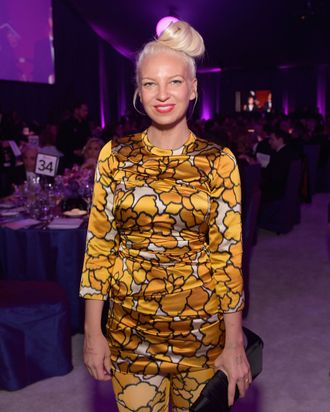 Sia.
Photo: Stefanie Keenan/Getty Images for Chopard
Just when we thought we heard every story under the sun about Donald Trump's ill-fated 2015 hosting stint on SNL — remember, he apparently "struggled to read" and tried improvising during the live show — Sia, the musical guest that evening, takes off her wig and drops some even hotter gossip about what it was like to be around Trump's "comedy" orbit. In a new Rolling Stone interview, the singer recalled that when SNL's taping ended, Trump and his daughter, Ivanka, went to her dressing room so the duo could get a host-musician photo together. (Trump is apparently quite the Sia fan, despite his public affection for music rarely going past 1984.) "We've got to get a photo!" Trump said, with Ivanka holding out a camera, a quick series of events that required Sia to act fast. "Actually, do you mind if we don't?" she responded. "I have a lot of queer and Mexican fans, and I don't want them to think that I support your views." And what happened next …
After a beat, he said, "Oh, no problem. Then don't." He didn't seem angry or hurt in the slightest.




"It was as if he viewed me as protecting my brand," says Sia. "He respected that.




"I was like, 'Thank you so much,' " she recalls, "and then I went into my dressing room and had crazy diarrhea."
Coincidence? Well, that's up to you.