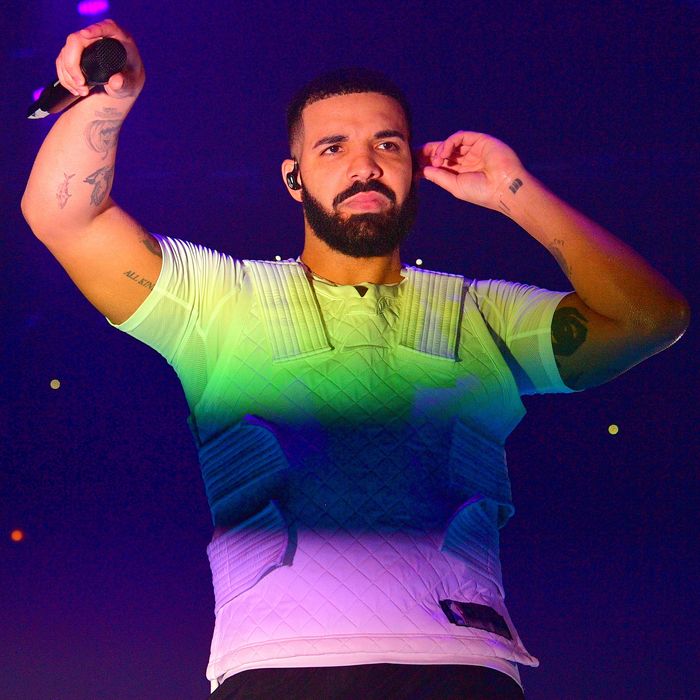 Photo: Prince Williams/WireImage
In 2016, Kanye West rewrote the rules for how artists could think about their live stage show. He posed a single challenge to his production team, an idea he'd been mulling for a decade: "Why do we have to have a stage, anyway?" Turns out, they didn't.
"The corny shit has to die," he would later tell the crowd at the opening night of his Saint Pablo tour. "Inspiration has to rise." And he meant it literally: Kanye took the stage that night without a stage at all — at least not in the traditional sense. If you went to most other concerts around that time, you would've likely watched the show seated in a crowd that was all facing the same stationary stage. Kanye's anti-stage, however, was mobile; he performed, mere feet above the crowd on a large rectangular black mass that floated back and forth across the arena floor. The setup meant that, at any given moment during the show, Kanye was either at arm's length, or eye-level with the crowd. Every seat was the best seat in the house. It was a risk, but it paid off. Kanye West was not the star of his own show — design, innovation, and a vision for music's future took center stage even without one.
Drake and Migos's latest tour, Aubrey & the Three Migos, is in the middle of a New York residency — capping off four nights at Madison Square Garden on Tuesday night before moving on to Barclays Center for another three — and it picks up where Kanye left off. Drake does not float and neither does his stage. Movement at this show is presented another way: Drake performs the entire two-hour spectacle from the center of the room, where he is also situated atop a rectangular structure with a 360-degree view of fans on all sides, and video screens that wrap around overhead. It stays in one place the whole show, depending instead on him alone to provide the action. Drake cannot turn his back to one side for too long, at the risk of alienating an entire fraction of the room.
It's partially to Drake's credit that the setup of watching nothing but him dart across the stage all night isn't as boring as it could be. Even with three men onstage and more props to interact with, Migos — who have always been stiff performers — failed to be even half as compelling or engaging in their opening set. But Drake is an actor first, and he knows how to work the room. "It's not just me performing, it's us," he tells the arena. It's a good point: not even Drake alone can sustain the interactive nature of a stage like this. The sleepier B-side of the show (which aligns with the R&B side of Scorpion and sees him sing a cover of Michael Jackson's "Rock With You" for no good reason), exposes just how consistently lively the action on stage must always be for it to be interesting. (It might also explain why he rushes through all of his hits in snippets, rather than risk lingering on any individual song for just a beat too long and lose the crowd.)
Perhaps anticipating that, Drake's tour brings several reinforcements. His stage isn't just a stage, it's a piece of multimedia art resembling the work of Kanye collaborator Es Devlin. It is at once a light box and a gargantuan projector on which images of mermaids circling around Drake like sharks are shown. Its ever-shifting designs become a visual feast for the duration of the show, so that when Drake occasionally lags, there's something else to watch. During "Yes Indeed," a Ferrari randomly floats about the crowd seemingly for no other purpose than it just looks cool. Midway through the show, laser beams from above etch a full basketball court into the stage on which Drake invites a fan at each show to attempt a lucky half-court shot for $25,000.
As much as Drake is unmistakably the show's star, he's willing to share the shine. Tuesday night's show featured guest appearances from Shiggy, who performed his viral dance routine to "In My Feelings" while the stage transformed into a scrolling Instagram feed of others' re-creations of the challenge beneath him, and Travis Scott, who performed his and Drake's new hit "Sicko Mode" (which received the wildest crowd reaction of the night by a mile) and "Goosebumps." Aubrey & the Three Migos might not fully live up to the futurism Kanye had in mind for concerts — and that probably isn't its intent — but it's the best attention paid to fan accessibility and getting the bang for your buck since the Saint Pablo tour, anyway.