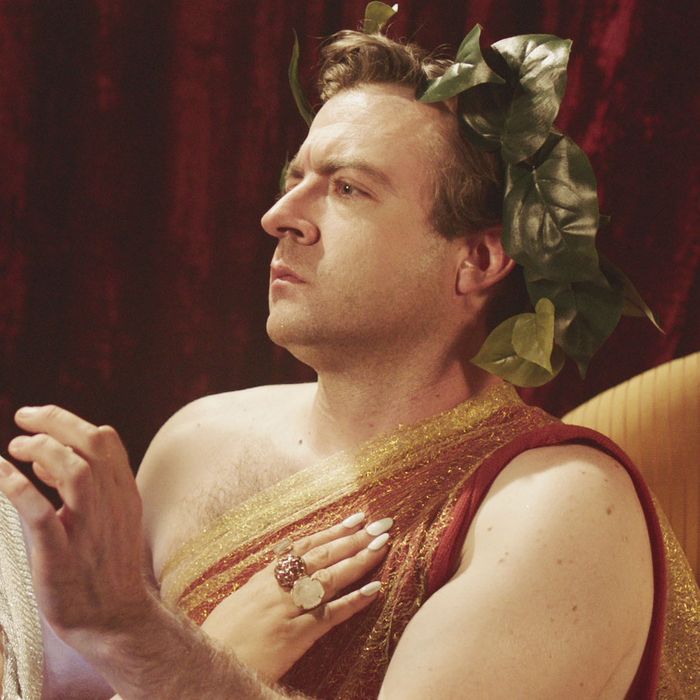 Raven-Symoné and Derek Waters in
Drunk History.
Photo: Comedy Central
Comedy Central's inventive and inebriated show Drunk History was renewed for a 16-episode sixth season back in February, the biggest order of its run thus far. One thing we can be assured of is that creator, host, and (reen)actor Derek Waters is striving to make the show something more evolved than the previous five seasons so that it doesn't become stale. "I'm a comedy snob and I don't want the show to get old," he says.
That was evident in season five, in which Waters allowed reenactors to speak for the first time, did an Unsolved Mysteries parody (though he doesn't like the word "parody"), and faced head-on his disdain for sex scenes in comedies. Drunk History, one of three shows (along with Saturday Night Live and Portlandia) to be nominated in all four years of existence of the Best Variety Sketch Series category, is looking for its first win in that category at next month's Emmys on September 17.
There were many big and memorable moments in the latest season of the show that turns drunk storytellers into unlikely narrators, and Waters picked seven of his favorite performances as examples of how much the show has changed more than ten years after its first online iteration.
"Dangerous Minds": Taran Killam as Jack Parsons, Jerry O'Connell as Rasputin
I picked Parsons because it's one of those stories where just as you think it's over, it's not over, and it continues: "He's connected to him? And he's connected to him? And he's connected to L. Ron Hubbard!?" It just goes on and on and it's like, "How did I not know this?" Also, [with] both Parsons and Rasputin, I had an idea that luckily was useful in that I've never seen a comedy where I'm like "That sex scene was so good" or "That sex joke was so great," and with these people, I can't ignore these sex parties. I can't ignore Rasputin having sex with all these people, but how can you do it in a way that's not "Why are these guys shooting a comedy but actually having sex?" So in Parsons, there's some sexual stuff where I just put wigs on a stick, which I think is funny, and I want to think of more stuff like that. And for Rasputin we did actual, practical black bars over the women's breasts; I like those just because we're still coming up with new ideas, which is exciting.
There's lip-syncing and then there's committing to the character and being the character, which is what Jerry O'Connell is so good at. Both of those stories with Duncan Trussell and Chris Romano, they are such amazing narrators with distinct voices and talk very fast and aggressive, and both Taran and Jerry can reenact it so, so well. Likability is important too, because both of those characters did not do likable things, but you need to keep the audience wanting to watch these people so you have to have people like Jerry and Taran play them.
"Dangerous Minds": Bob Odenkirk as W. C. Minor
Bob is my hero, and I will always look up to him and I'm so lucky to be friends with him. That story just in general, W. C. Minor — who would've known the guy who helped start the dictionary also murdered someone? And was in an insane asylum? Just the way Bob plays it, just in the sweetest way, is so passionately dumb. And my original hero growing up was Chris Farley, so having Kevin Farley do it with Bob makes me real happy to be doing this little history show and working with these amazing actors.
People often ask me "Do you ever have to cut stuff out of your stories?" There's a lot we need to cut out, but W. C. Minor has a specific one that I took out, because he cut his penis off. He had a venereal disease and was so frustrated with it that he cut his penis off. I decided if we leave that in, that's what the story will be remembered by instead of the guy who did all these words in the Oxford English Dictionary. I'm not ignoring that he cut his penis off, but I don't feel the need for that to be acknowledged within the importance of the good stuff that he did.
"Game Changers": Raven-Symoné as Nichelle Nichols
This one, I think, is the best example of my favorite stories — the "just when you think it's over, it's not over" stories. Knowing that she was going to leave Star Trek and Martin Luther King told her not to leave and how important it was to be a black woman on TV? Which is so beautiful. And she helps integrate NASA? It kept continuing and continuing. I've loved Raven forever and always wanted to work with her and couldn't think of anyone better. And I love Jaleel White, so let's see him as Martin Luther King and make it a TGIF throwback.
"Drunk Mystery": Kirsten Dunst as Agatha Christie
Doing the show for five seasons, it's important to ask "How can we do new stories?" In evolving the tone of the show, I thought about how I will always love Unsolved Mysteries forever, so let's make a Drunk Mystery. Kirsten Dunst and Jesse Plemons are my dear friends, and this is the first thing they've done together since Fargo and the first thing they've worked together on as a couple, which meant so much to me, and both of them just blew my mind. I met Kirsten through Kristen Wiig many years ago when we were just doing Drunk History online for fun — I mean, I'm still doing it for fun, but you know what I mean — and we were gonna do an Amelia Earhart story but for whatever reason it didn't work out. Any time we were shooting I would ask, and this is just the time that it worked out for her.
"Drunk Mystery": Vanessa Bayer as Mary Gillespie
I don't like the word "parody" because parodies are usually bad, but doing our show in the vein of Unsolved Mysteries, the reenactments with the bad acting lines was always my favorite, so I felt like for the first time we were allowed to have the actors speak on their own because it was an Unsolved Mysteries parody, and it was a story that was on Unsolved Mysteries, and it's Vanessa Bayer. I'm hoping to do more Drunk Mystery in the future and I don't want to break the rules all the time, but this one seemed justified.
Also, we have a very strong ensemble, and I never will take that for granted. They're all so talented, and I've been a fan of Craig Cackowski forever, and I might get in trouble for saying this, but he's definitely the Phil Hartman of the show — "the glue," as they called Phil Hartman. I have no favorites, I love them all, but Craig consistently blows my mind.
"Underdogs": Colin Hanks as Fred Rogers
The likability of Colin is undeniable. For the record, we cast Colin Hanks before Tom Hanks was cast as Mr. Rogers. I want to make that clear. And Mr. Rogers is just a person that we all grew up loving. He fought for education, and that's the whole goal of this show — secretly it's an educational show and everything I do from here on out is Mr. Rogers–inspired. If you can make 'em laugh, you can make 'em listen. I don't want this show to become a drama, but I do enjoy finding this history that hopefully makes people laugh.