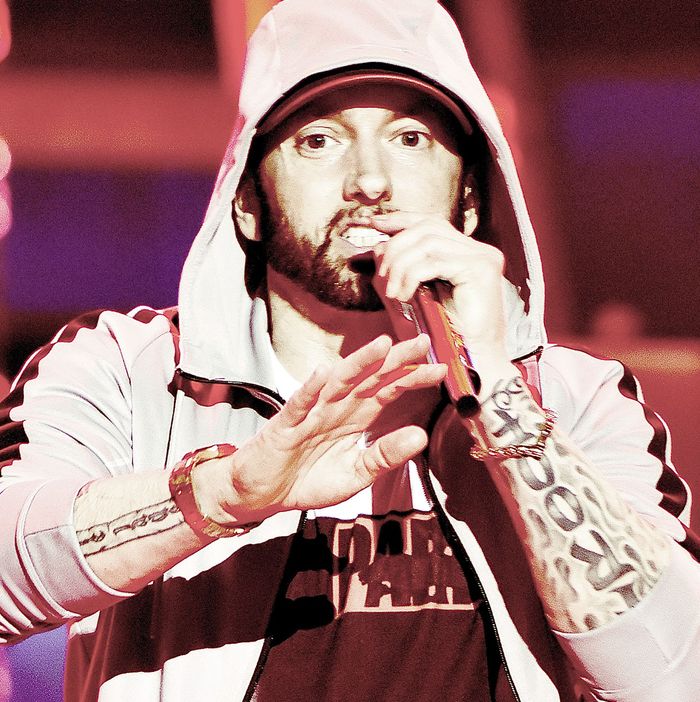 Photo: C Flanigan/WireImage
Just when you thought the summer of surprise albums had run its course, in swoops Eminem at the eleventh hour for one (hopefully) last shock to the system. On Thursday night, with no warning, he released his tenth album, Kamikaze, mere months after his last album, Revival (remember that?), seemingly as a corrective to all its predecessor's flaws. The 13-song album was produced by Dr. Dre and features Jessie Reyez, Royce Da 5'9", Joyner Lucas, Little Dragon and … Bon Iver … and Kendrick Lamar? Or does it? Let's dive into everything you need to know to get you through Eminem's latest, including how it pays homage to the Beastie Boys, attacks his critics, and deals with Trump.
It uses Kendrick Lamar's "Humble."
You'll notice Kendrick Lamar has a writing credit on "Greatest," not because he contributed any new lyrics, but because Eminem interpolates "HUMBLE." Playboi Carti and Lil Uzi Vert are also credited songwriters because its hook interpolates ""wokeuplikethis*."
Its cover is an homage to the Beastie Boys.
The album artwork is a full re-creation of the Beastie Boys' 1986 Licensed to Ill cover, even down to the petty hidden messages. The Beastie Boys' Boeing 727 had "Eat Me" written backwards on it, Em's has "Suck It," "FU 2," and "Copycat."
He responds to criticisms of his last album.
Eminem's last album, Revival, dropped a mere eight months ago, which isn't enough time for Em to recover from all the negative press that surrounded it. On Kamikaze opener "The Ringer," he speaks at length about feeling put through one by the media, telling us in no uncertain terms that we can, ahem, eat a dick:
"But my beef is more media journalists

(Hold up, hold up, hold up …)

I said my beef is more meaty, a journalist

They can get a mouthful of flesh

And yes, I mean eating a penis

'Cause they been pannin' my album to death

So I been givin' the media fingers

Don't wanna turn this to a counselling sesh

But they been puttin' me through the ringer

So I ain't ironin' shit out with the press

But I just took this beat to the cleaners"
Playground insults aside, Em lays out his complaints about the way his last album was received more specifically, saying that critics and fans either didn't spend enough time with the work to let it digest ("Skim through the music to give shit reviews / To get clicks, but bitch, you just lit the fuse"), its lyricism was just too complex for simpler minds to grasp (But sayin' I no longer got it 'cause you missed the line and never caught it / 'Cause it went over your head, because you're too stupid to get it / 'Cause you're mentally retarded but pretend to be the smartest"), or the album's production was just too old-fashioned for millennial ears ("Maybe the vocals should have been Auto-Tuned and you would have bought it").
But Em is self-aware enough to realize that making an album just to complain about his last will only prove critics' original point about what's become of him: "Now when it doesn't matter what caliber I spit at / I'll bet a hundred thousand bucks / You'll just turn around and just be like, 'Man, how the fuck Sourpuss gonna get mad just 'cause his album sucks / And now he wants to take it out on us?'" He also includes a voice-mail from his manager, Paul Rosenberg, on the skit "Paul," telling Em it's not advisable to let critics know that they successfully got under his skin. "What's next?," he asks, "Kamikaze 2, the album where you reply to everybody who didn't like the album that you made replying to everybody that didn't like the previous album?"
Bon Iver is involved … but he's not happy about it.
Continuing his journey as your favorite rapper's favorite rock dude, Bon Iver's Justin Vernon is featured on "Fall." But it appears Vernon isn't too thrilled about being associated with a song that's critical of several other rappers he might like to work with someday. He's since tweeted to a fan that he wasn't in the studio when the track was made and asked Eminem to change it because he was "not a fan of the message, it's tired," but Em wouldn't budge.
He disses 'mumble rap' (again) …
It's no secret that Eminem doesn't get down with SoundCloud Rap or so-called "mumble rap" (he previously trash-talked them on 2017's "Chloraseptic"), but now he's calling out rappers by name to tell them he doesn't like them. He claims it's not a diss, but don't be fooled.
"I can see why people like Lil Yachty, but not me though

Not even dissin', it just ain't for me

All I am simply is just an emcee

Maybe "Stan" just isn't your cup of tea

Maybe your cup's full of syrup and lean

Maybe I need to stir up shit

Preferably shake the world up if it were up to me"
He later adds, "I heard your mumblin' but it's jumbled in mumbo-jumbo / The era that I'm from will pummel you," and accuses Lil Xan and Lil Pump of imitating Lil Wayne without proper credit.
… and Charlamagne tha God …
The New York radio personality, like many people, was not kind to Eminem's last album. But while the response to Eminem's BET cypher was generally favorable, Charlamagne didn't like that either. Eminem isn't amused: "Charlamagne gonna hate anyway / Doesn't matter what I say / Give me Donkey of the Day / What a way for 2018 to get underway."
… and Joe Budden.
Though they were once comrades due to their shared Slaughterhouse affiliation, Joe Budden's greatest talent is he can make an enemy out of anyone, even his own mentor. Budden dissed last year's Revival track "Untouchable" (which Em would later respond to in subliminals), and now Eminem has a few words of his own about Budden's second career as a shock jock, taking a shot at past domestic violence allegations against Budden: "Somebody tell Budden before I snap / He better fasten it / Or have his body bag get zipped / The closest thing he's had to hits / Since smacking bitches."
He claims Trump sent the Secret Service after him.
Em's BET Hip-Hop Awards cypher was an extended diatribe against the president and, if we're to believe Em, it was enough cause to be seen as a legitimate threat and for Trump to alert the Secret Service:
If it were any other presidency, that a rap freestyle could become a matter of national security might seem far-fetched. But recall that Trump also allegedly had the Secret Service go after YG for his song "Fuck Donald Trump" before he was even in office.
It lays D12 to rest.
Though the Detroit supergroup has effectively been retired since Proof's death in 2006, Eminem officially declares D12 a thing of the past on "Stepping Stone": "'Cause the truth is, the moment that Proof died, so did the group … It's not good-bye to our friendship, but D12 is over."
His song from Venom is on there.
Indeed, Eminem has a song on the Venom soundtrack — the main song, actually — that he has also tacked on as the final track on Kamikaze. It's called "Venom," but it's not especially venomous.