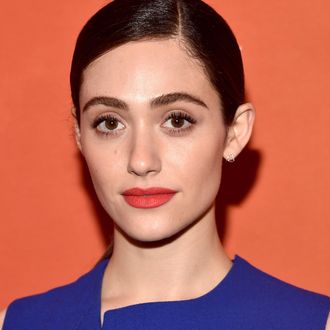 Rossum.
Photo: Alberto E. Rodriguez/Getty Images
The eldest Gallagher is flying the coop: Emmy Rossum has announced her exit from Shameless after seven years on the show. Rossum has starred as the oldest Gallagher sister and pseudo matriarch Fiona, alongside William H. Macy, for nine seasons. In a lengthy Facebook post, Rossum reflected on joining the TV family that's become Showtime's highest-rated series. "See, in real life, unlike Fiona, I'm an only child. I never had a big family. Being ensconced in that messy Gallagher family love is something I'd always dreamed of. But even off set, it feels real," she writes. "The opportunity to play Fiona has been a gift. There are few characters — female or otherwise — as layered and dynamic. She is a mother lion, fierce, flawed and sexually liberated. She is injured, vulnerable, but will never give up. She is living in an economic depression, but refuses to be depressed. She is resourceful. She is loyal. She is brave. I knew it the second I read the pilot script, this was different, this was special."
During her time on the series, Rossum also famously fought for equal pay and won. Shameless returns for its ninth season, to air in two parts, starting September 9. It has not yet been renewed for a tenth season, though Rossum hints that it will. (Vulture has reached out to Showtime for comment.) She writes, "I know you will continue on without me, for now. There is much more Gallagher story to be told. I will always be rooting for my family. Try not to think of me as gone, just think of me as moving down the block."
Update, 4:40 p.m.: Showtime has confirmed Rossum's departure following season nine in a statement saying they were "saddened" to learn she would not be returning.
"We were saddened when Emmy Rossum let us know that the upcoming ninth season of Shameless would be her last. But we are filled with an overwhelming sense of joy and gratitude for Emmy's inspired work on our series, of course in front of the camera but also behind it. Fiona Gallagher will always be one of Showtime's iconic characters, and we applaud Emmy for bringing this character to life in such a natural, touching and fearless performance. On behalf of everyone at Showtime and her millions of fans, we thank you Emmy!"
Showrunner and executive producer John Wells also shared a statement saying season nine's finale will offer "a Gallagher-worthy sendoff for Fiona."
"Emmy Rossum will forever be part of the Shameless family. She has been integral to the show's success, from her wonderful portrayal of Fiona to her leadership role on set, as well as directing multiple episodes of the series. We are hard at work now creating a season nine finale for Shameless which we hope will provide a Gallagher-worthy sendoff for Fiona that honors the great work Emmy has done. It is always bittersweet when an ensemble member decides to move out of the proverbial house, but our door will always remain open for Fiona to return home for a visit, or to move back in. I look forward to continuing the stories of this wildly unpredictable family and all of us on Shameless will miss Emmy and her wonderful Fiona."