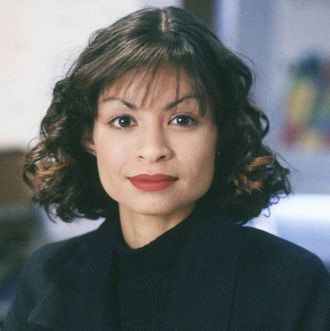 Marquez.
Photo: NBC/NBC via Getty Images
Actress Vanessa Marquez, who appeared in nearly 30 episodes of ER in the 1990s, was shot and killed yesterday by police in her Pasadena home after her landlord summoned the authorities to check on her well-being. She was 49. According to Variety, when officers arrived at noon, Marquez was apparently suffering from seizures and appeared "unable to take care of herself." Paramedics and a mental-health clinician were then called in to assist Marquez, and about 90 minutes later, Sheriff's Lieutenant Joe Mendoza said that she raised a BB gun to officers who opened fire, mistakenly thinking she hand a real gun in her hands. Mendoza further described Marquez as appearing to be "gravely disabled."
Last year, Marquez alleged on Twitter (her account now registers as suspended) and Faceboook that she endured racial and sexual harassment on the set of ER, and that producers failed to act when she came to them with complaints. She also claimed that George Clooney worked to "blacklist" her after she spoke out, an accusation that he denied.