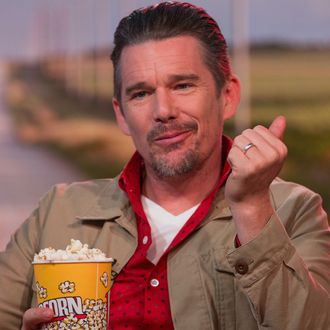 Ethan Hawke.
Photo: NBC/NBCU Photo Bank via Getty Images
Despite the occasional superhero film earning recognition at the Academy Awards — most recently with the critically-acclaimed Logan, which netted a Best Original Screenplay nomination earlier this year, a significant breakthrough in the genre — Ethan Hawke can't seem to discuss those films without a layer of condescension. In a new interview with The Film Stage, Hawke repeatedly expressed his annoyance that people don't separate superhero films with, well, literally all other films in existence. "Now we have the problem that they tell us Logan is a great movie," he explained. "Well, it's a great superhero movie. It still involves people in tights with metal coming out of their hands. It's not Bresson. It's not Bergman. But they talk about it like it is." He continued, with his gripe with Logan growing stronger:
I went to see Logan 'cause everyone was like, 'This is a great movie' and I was like, 'Really? No, this is a fine superhero movie.' There's a difference, but big business doesn't think there's a difference. Big business wants you to think that this is a great film because they wanna make money off of it.
Why do we have a feeling Hawke isn't a big fan of the Oscars' new "popular film" category.