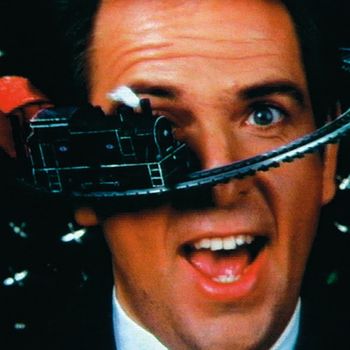 The MTV Video Music Awards are not, and have never been, a barometer for creative achievement within the artistic realm of music videos. This is not opinion, but plain-as-day fact — proven wholly by the undeniable truth that the late Michael Jackson, undoubtedly a master of the form, never took home the show's biggest prize of Video of the Year in his career. (For what it's worth, he was awarded the Video Vanguard prize in 1988, and the award was renamed in his image three years later.)
Regardless, the ceremony has occasionally recognized exemplary achievement in the Video of the Year category, even alongside some of its more questionable choices. Digging through the VMAs' 34-year history is revealing in ways beyond noting who got snubbed over the years, illuminating how the artistic format has developed and/or devolved over time as well as the ever-changing nature of what "Video of the Year" really means in MTV's eyes. Since 2009, voting for Video of the Year has been in the public's hands, a popularity-contest move which, regardless, hasn't stopped the award from being handed to deserving artists like Beyoncé and Kendrick Lamar; this year's six nominees include Drake's "God's Plan" and Childish Gambino's "This Is America," both statement-making clips in their own right that very well could take home the prize.
Until we find out who wins tonight, let's dig in with a little ranking of the Video of the Year winners since 1984, the first VMAs in existence. The following ranking is based purely on quality, taking into account factors ranging from how well certain technological advances have aged to how poorly certain attempts at cultural commentary come off in 2018. Watch along if you like; most of these are on YouTube, and there's plenty of pleasure to be had — the stultifying effect of the actual VMA ceremony be damned — in bingeing on music videos for hours at a time.
33. Van Halen, "Right Now" [1992]
A little personal fact: the middle school I attended (shout-out to Benjamin Franklin Middle School in Ridgewood, New Jersey) had an A/V class that produced its own morning news show, and the piano intro to "Right Now" was the show's unofficial theme song. The visual treatment for "Right Now," accordingly, is best suited for an eighth-grade level of understanding when it comes to society's ills and issues. To say the sloganeering on display here has aged like rotten fruit is an understatement, with platitudes mocking the homeless and offering ankle-deep criticisms of the government alongside no-shit statements like, "Right now, your parents miss you." You're better off giving them a call instead of watching this video.
32. Green Day, "Boulevard of Broken Dreams" [2005]
This American Idiot single carries with it the achievement of being the only song to win both the Record of the Year Grammy and Video of the Year. That's great! Good for Green Day. The video itself, however, isn't as impressive of an achievement — just some dusty-ass footage of Green Day walking around, a montage of downtrodden people (presumably existing on the titular boulevard?), and some performance footage. More like "Wake me up when this video ends," amirite?
31. Miley Cyrus, "Wrecking Ball" [2014]
A video directed by Terry Richardson, for a single produced by Dr. Luke? Hard pass.
30. Dire Straits, "Money for Nothing" [1986]
The 1986 Video of the Year winner was emblematic of a few VMA-winning trends in the '80s: namely, treatments acting as reflexive criticism against what the music video format stood for and groundbreaking-at-the-time special effects. There's an air of cleverness to the conceit of gruff, computer-animated men perplexingly watching Mark Knopfler & Co. do their thing on the small screen — itself reflecting the working-class satire and latent homophobia reflected in the song — but the blocky animation has aged terribly compared to other similar technological advances reflected in music videos around this time. The added rotoscoping to Dire Straits' performance footage doesn't improve things, nor does it mask the fact that it's kind of a terrible song.
29. Don Henley, "The Boys of Summer" [1985]
The year after nabbing Video of the Year for his deathless "The Boys of Summer," former Eagles front man Don Henley joked that he won the award for "riding around in the back of a pickup." He's not wrong! Director Jean-Baptiste Mondino went on to lens the controversial-at-the-time clip for Madonna's "Justify My Love," but his work on "The Boys of Summer" is pretty tame: some wall projections of seasons past, adults looking regretful, a tiny Henley-esque kid (played by Josh Paul, who would go on to handle bass duties for Daughtry) bashing away on the drums — and, yes, Henley riding around in the back of a pickup. Wikipedia claims the video was influenced by French New Wave cinema, but don't come to this one expecting Godard.
28. Katy Perry, "Firework" [2011]
Bleh. Lots of fake-inspo tableaux packed into this Dave Meyers–directed clip for the Teenage Dream single, pointing the way in retrospect for Perry's inspo-pop turn taken on her Teenage Dream follow-up, Prism. A much better visual treatment for this song (which, for the record, bangs): Marion Cotilliard's emotional breakthrough in Jacques Audiard's powerful, underrated 2012 film Rust and Bone, soundtracked to "Firework." If you haven't witnessed this scene within the film, do so as soon as possible — it might change the song's impact for you, certainly more so than its official clip.
27. Aerosmith, "Cryin'" [1994]
A tale as old as time: boy cheats on girl, girl pushes boy out of car, girl gets piercing, girl gets purse stolen by Sawyer from Lost, girl pretends to jump off a bridge in front of ex-boyfriend and police officers — only to reveal that she's engaging in the very '90s trend of bungee-jumping. Sike! Whether this Alicia Silverstone–starring cheesecake clip is better or worse than her follow-up Aerosmith video appearance, in the risqué 1994 clip for "Crazy" that also features Aerosmith front man Steven Tyler's daughter Liv skinny-dipping (very weird and kind of gross!), is totally up to you. Otherwise, it's a suggestive and thoroughly ridiculous clip, just like Aerosmith themselves.
26. Justin Timberlake, "Mirrors" [2013]
A stylishly shot clip for an eight-minute single that definitely feels eight minutes long. It feels rude, on a level, to disparage this Floria Sigismondi–helmed clip for JT's The 20/20 Experience, Part 1 single; hopping between temporal narratives to tell the story of an old couple's life (and death) and utilizing more mirror imagery than a goddamn funhouse, the video was dedicated to Timberlake's real-life grandparents William and Sadie Bomar, who stayed together for 63 years until the former passed a year before "Mirrors"' release. That's sad, and a nice sentiment. It doesn't make the video any more interesting to sit through, unfortunately.
25. Panic! At the Disco, "I Write Sins, Not Tragedies" [2006]
A great single (it's 2018, we can say this now) from one of big-budget emo's most theater-kid acts — with a thoroughly unimpressive theater-kid visual treatment courtesy of emo-video vet Shane Drake and featuring a whole lot of literal clowning around from the Los Angeles-based Lucent Dossier Vaudeville Cirque. Granted, the nominees for this particular year — Christina Aguilera's "Ain't No Other Man," Madonna's "Hung Up," Red Hot Chili Peppers' "Dani California," and Shakira's "Hips Don't Lie" — weren't exactly tough competition, which undoubtedly allowed for this clip's cheap-thrills theatrics to sneak its way to VMA glory.
24. The Cars, "You Might Think" [1984]
There is perhaps no greater indication of the VMAs' total inconsistency when it comes to rewarding artistic achievement than the fact that this video won the inaugural Big Award instead of Michael Jackson's "Thriller." Read that previous sentence back a few more times — it doesn't make any more sense with repetition. The video for this single from the Cars' fifth album, Heartbeat City from 1984, cost $80,000 to make — triple the typical music video budget at the time. The clip's silly visual effects have obviously not aged well, and that goes triple for the video's vague plot consisting of Cars front man Ric Ocasek finding myriad ways to stalk model Susan Gallagher (popping up in her bathtub, flying into her face as a bee) before serenading her in a boat with a ukulele. Ah, love.
23. Taylor Swift ft. Kendrick Lamar, "Bad Blood" [2015]
Arguably, the promotional rollout ahead of this video directed by frequent collaborator Joseph Kahn — which consisted of Swift teasing the star-studded appearances and their subsequent characters in the video, with fake movie posters to boot — was more engaging than the clip itself, which shuffles through Swift's "posse" with the speed of the kid from Big Little Lies crafting a Spotify playlist. It's stylish, loud, and not much else.
22. Eminem, "The Real Slim Shady"/ "Without Me" [tie] [2000/2002]
Much of turn-of-the-millennium Eminem has not aged well, and that applies to this then-ubiquitous treatment for "The Real Slim Shady," the inescapable single from The Marshall Mathers LP. Possibly the most relevant aspect circa 2018 of the Dr. Dre and Philip Atwell–helmed clip is the appearance of Kathy Griffin as a sardonic psychiatric-ward nurse; otherwise, it's a barrage of pop-culture references staler than old bread, from Tom Green to TRL-era Carson Daly. Points added for the fresh smack of novelty pre-Em's other Video of the Year win for the nearly identical-in-approach (hence the tie), Video of the Year–winning "Without Me" two years later, and plenty of points docked for a scene in which Em breaks up a wedding between two men with disgust.
21. Britney Spears, "Piece of Me" [2008]
Justice for "Toxic"! Seriously, it's crazy that Spears's most iconic clip from 2004 didn't take home the prize (although it faced stiff competition in that year's winner, OutKast's "Hey Ya!"), and given this single's placement within Spears's comeback era, you could argue that awarding Video of the Year to this Wayne Isham–lensed clip is something of a gesture making up for lost time. Its self-effacing musings on the perils of fame are mildly amusing, but done more memorably (quality aside) in the clips for other Spears singles "Lucky" and "Everytime." No Stephen Dorff, no cred.
20. INXS, "Need You Tonight"/ "Mediate" [1988]
This clip featuring two songs from the 1975's — sorry, INXS's — 1987 LP Kick is something of a bait-and-switch. The first half, focusing on "Need You Tonight," is a fairly standard video with plenty of posing and mugging from late front man Michael Hutchence; but the "Mediate" section is where things get interesting, as Hutchence and the band stand in a desolate industrial park while he shuffles cue cards à la the clip for Bob Dylan's "Subterranean Homesick Blues." There's something endearingly passionate to it, even as it pushes the level of corniness — and in terms of vague, statement-making sloganeering, it's a hell of a lot more effective than the putrid clip for Van Halen's "Right Now." (Also, in case my joke in the beginning of this blurb didn't drive it home enough, it's the alpha and omega of reference points when it comes to the 1975's influences.)
19. Rihanna, "Umbrella" [ft. Jay-Z] [2007]
Rihanna's part of a small club of Video of the Year winners who have won twice; Eminem and Beyoncé are also members. Of Rih's two notched wins thus far, the Chris Applebaum–directed "Umbrella" stands as the lesser achievement visually, simply because of its comparative plainness to the hyperspeed pace of the clip for "We Found Love." But watching Rihanna just do her thing never gets boring, and the video's singing-in-the-rain imagery has stood the test of (relative) time in the eleven years since.
18. Christina Aguilera, Lil Kim, Mýa, and Pink ft. Missy Elliott, "Lady Marmalade" [2003]
Controversially low, I'm sure — but given the visual pedigree of the upper echelon represented in this list, does mere iconography suffice in what is essentially a revolving-door performance video? I think not. Sure, there hasn't really been a posse-pop cut like this one in years since that has attained a permanent place in pop-cultural Valhalla — and it's a solid cover with a visual treatment that features engaging performances. There's just not much to this one, though, and through the lens of artifice, it falls just a little short.
17. Rihanna ft. Calvin Harris, "We Found Love" [2012]
Rihanna's rave-iest song, accompanied by rave-y visuals that would stand to give even Gaspar Nøé a headache (in a good way — and that guy deserves it anyway). Lensed with potent energy by Melina Matsoukas, who later went on to nab another Video of the Year award for Beyoncé's "Formation," the video for "We Found Love" gave us the endlessly memeable snap of Rihanna flipping a double-bird while filming; it also courted a humorous amount of controversy when, after Rih ran topless in an Irish farmer's field, said Irish farmer reportedly told her to "Find God." Rude!
16. The Smashing Pumpkins, "Tonight, Tonight" [1996]
A solid entry from the music-video dream team of Jonathan Dayton and Valerie Faris, who have since gone on to direct films ranging from Little Miss Sunshine to Battle of the Sexes. The "Tonight, Tonight" clip took direct inspiration from Georges Méliès's turn-of-the-century silent film A Trip to the Moon, and the starry-night drama and surreality of the video is a tight fit alongside the Pumpkins' bombastic, histrionic rock. A little trivia for you TV heads out there: the video also stars Tom Kenny and Jill Talley, who were then regular players on Mr. Show With Bob and David and later went on to do voicework for SpongeBob SquarePants (with Kenny voicing the titular sponge in question).
15. R.E.M., "Losing My Religion" [1991]
A classic song from arguably the best rock band of the last 40 years (fight me), Tarsem's typically intricate visual treatment for the Out of Time single is loaded with lyric-mirroring imagery and comprised of myriad artistic reference points, from Andrei Tarkovsky's The Sacrifice and the work of Italian painter Caravaggio to the 1955 Gabriel García Márquez short story "A Very Old Man With Enormous Wings." Ambitious, visually engaging stuff —and, fascinatingly, not what Stipe initially wanted for the video, as he apparently first preferred a straightforward performance clip à la Sinead O'Connor's "Nothing Compares 2 U."
14. Lady Gaga, "Bad Romance" [2010]
Gaga's arguably had better videos (my vote's for "Videophone"), but the wild and eccentric visuals for "Bad Romance" stand as the first time the greater world was introduced to the mind-expanding multitudes that she contains. Helmed by Francis Lawrence (who would go on to direct the massively successful The Hunger Games film series) and creatively directed by the Haus of Gaga creative team, "Bad Romance" is loaded with so much imagery that it's practically overwhelming, from spontaneously-combusting beds to weird coffin-pods — but none as indelible as the final scene, which features Gaga smoking a cigarette next to a skeleton while wearing a spark-spitting bra.
13. Lauryn Hill, "Doo Wop (That Thing)" [1999]
A lovely, nostalgic, and effects-laden clip for the The Miseducation of Lauryn Hill single, giving viewers two Lauryns — one in 1998, and one in the 1960s — side-by-side performing at a block party in Manhattan's Washington Heights neighborhood. A bit of accidental foreshadowing, too, since Hill and the Fugees would reunite six years later for a one-off performance as part of the Clinton Hill bash captured in the documentary Dave Chappelle's Block Party. (Initially, Hill was scheduled to perform solo, but Columbia refused to let her songs be featured in the ensuing doc.)
12. Madonna, "Ray of Light" [1998]
The Jonas Akerlund–directed video for Madonna's best song off her best album of the same name is simple in its execution: the modern world moves fast, and Madge is standing in front of it all, the speedy imagery behind her perfectly pairing with the track's rave-era velocity. Akerlund took inspiration from the intense, time-lapse-tastic 1982 experimental documentary Koyaanisqatsi, which once made me throw up after taking a bong rip in college. The "Ray of Light" clip isn't as intense (thank God), but its head-rush glories are still a thrill to take in.
11. TLC, "Waterfalls" [1995]
TLC were never ones to shy away from tackling social issues in their clips, and this F. Gary Gray–directed video for the CrazySexyCool smash is no exception, with a main narrative mirroring the song's addressing of the AIDS epidemic and drug-related violence. And, of course, there's TLC themselves dancing in what looks like the world's biggest reflecting pool, looking as if they are literally walking on water.
10. Kendrick Lamar, "HUMBLE." [2017]
DAMN. marked Kendrick Lamar's ascendancy from rap prodigy to total pop showstopper, and the visual for "HUMBLE." (credited to Dave Meyers and the Little Homies) was a throat-clearing moment ushering in this era of his career. Every scene pops practically off of the screen here, especially the visual of Kendrick, head aflame, surrounded by similarly on-fire figures with thick cords of rope wrapped around their skulls. It's his best video to date —a phrase we'll assuredly be repeating about other videos in the years to come.
9. OutKast, "Hey Ya!" [2004]
This That Thing You Do!–esque clip for OutKast's ubiquitous The Love Below smash is as fun as watching That Thing You Do! (which is to say, a lot of fun). Obviously, director Bryan Barber's true visual inspiration for this video was the Beatles' 1964 performance on The Ed Sullivan Show — which, amazingly, OutKast member André 3000 had never seen before Barber showed it to him. (Hey, YouTube wasn't even a thing in 2003, give him a break.) Due to time constraints, Andre — who plays the role of every fictional band member in the clip — improvised the choreography in the moment, which makes his unforgettable, Polaroid-picture-shaking moves all the more impressive.
8. Beyoncé, "Formation" [2016]
Complicated win here, considering that the overall impact of the instant-classic visual album that was Lemonade would've been far more deserving of such an accolade. (Upon release, Lemonade also served as a reminder that the nature of music videos themselves are increasingly changing, which the VMAs could — but probably won't — adjust to going forward.) But ahead of Lemonade's release, the Melina Matsoukas–directed clip for "Formation" was plenty impressive in its own right, playing host to a series of indelible images ranging from Bey lying atop a partially submerged cop car to this no-further-explanation-necessary GIF of Blue Ivy. Bow down.
7. Peter Gabriel, "Sledgehammer" [1987]
Iconic! One of the best music videos of the 1980s — maybe ever — utilizing a variety of special-effects techniques, from stop-motion animation to claymation and pixelation. In addition to being a killer clip for a killer song, the video for "Sledgehammer" also represents a feat of impressive physical prowess for Gabriel himself: he lay under a sheet of glass for sixteen hours while director Stephen R. Johnson filmed the detailed proceedings, one frame at a time. Something like this would take much less time to put together now, and that only makes Johnson and Gabriel's commitment to pushing the technological boundaries of the era that much more impressive.
6. Neil Young, "This Note's for You" [1989]
This is a weird one: Young's song and video licking shots at pop heavyweights and corporate-shill musicians was initially banned by MTV after Michael Jackson's attorneys threatened legal action due to the MJ impersonator featured in the video. Eventually, the decision was reversed and the clip took home 1989's big award (beating the clip for MJ's "Leave Me Alone," ironically), and whatever the reason for its eventual win, it's hard to believe that it didn't deserve it. Young's '80s period was notoriously inconsistent (and, some would argue, underrated), but what David Lee Roth disparagingly referred to as the "hippie bullshit from the '60s" visual polemics of "This Note's for You" feel no less relevant in an age where product placement in videos is so commonplace that we barely bat an eyelash at first sight of a Beats pill or luxury vodka brand. Never mind that MTV doesn't even air videos anymore — if they did in 2018, would any currently-in-their-peak pop or rock artist attempt anything as acerbically critical as this video? Probably not.
5. Pearl Jam, "Jeremy" [1993]
A video treatment so intense and singular that Pearl Jam opted not to make another music video for six years, until the animated clip for 1998's "Do the Evolution." It's impossible not to hear "Jeremy" without thinking about Eddie Vedder passionately howling in the Mark Pellington–directed clip, which centers on the titular young boy suffering at home and school before committing suicide in front of a classroom full of fellow students. Heavy stuff that feels no less relevant today, and with a tragic real-life ending: the actor who portrayed Jeremy in the video, then-12-year-old Trevor Wilson in his only credited acting role, died two years ago by way of drowning in Puerto Rico.
4. Missy Elliott, "Work It" [2003]
The outrage regarding Jennifer Lopez's forthcoming Video Vanguard coronation at this year's VMAs instead of Elliott is valid, and all you need to do is revisit this video for proof. Nearly every Missy video in existence is packed with visual gags, off-the-wall ideas, and layers of social critique that are as cutting as they are hilarious, and Dave Meyers's clip for this Under Construction single is no exception. It also introduced the world to teen dance phenom Alyson Stoner, who very much still has the range.
3. Sinead O'Connor, "Nothing Compares 2 U" [1990]
O'Connor was the first female-identifying performer to win Video of the Year, and it was more than well deserved. It's hard to overstate the influence of John Maybury's close-up visual treatment here; without it, similarly classic videos like D'Angelo's "Untitled (How Does It Feel)" (which was nominated, and lost, in 2000) would arguably not exist. O'Connor's visual performance here is no less impactful and emotional than the song itself, to the point where she sheds real tears triggered by memories of her late mother, who died in a car crash five years previous.
2. Jamiroquai, "Virtual Insanity" [1997]
An absolute classic of a visual treatment from a master of the form, Jonathan Glazer (who has since become one of the most fascinating and singular filmmakers of the century). To say this clip put Jamiroquai on the map is an understatement — it remains, to date, their most visible moment in pop's monoculture — and as much as Glazer's single-take, constantly-moving-floor-in-a-small-room aesthetic cements this video's iconography, it'd be nothing without the nimble footwork of front man Jay Kay, nimbly stepping amid the shifting chaos before meeting what seems to be a bloody fate (spoilers!).
1. Beyoncé, "Single Ladies (Put a Ring on It)" [2009]
What's to be said about this video that hasn't been already? Practically everyone on Earth remembers the first time they watched this mind-bogglingly ecstatic Jake Nava treatment, featuring Beyoncé and backup dancers Ebony Williams and Ashley Everett busting every single move in existence to choreography inspired by Bob Fosse's 1969 "Mexican Breakfast" routine. The video marked an early instance of engaging, viral visuals inspiring YouTube-clogging dance crazes, and despite its Video of the Year win, its loss for Best Female Video to Taylor Swift's "You Belong With Me" triggered Kanye West's infamous stage-crashing outburst, a pop-cultural moment that would permanently alter West's and Swift's careers and public perception for the following decade and, assuredly, beyond. In terms of pop-cultural impact on this list, it's simply unmatched; more importantly, it's a blast to witness even on the millionth view, the rare grin-inducing pop-cultural artifact that hasn't lost its shine and probably never will.