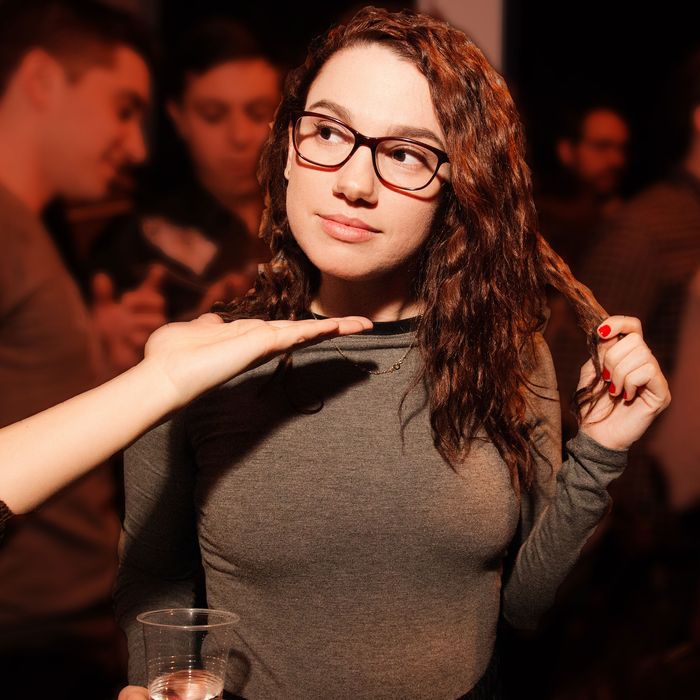 Farah Brook.
Photo: Mindy Tucker/Courtesy of Farah Brook
Farah Brook (@farahbrook) is a writer and comedian based in New York City. Her comedy has been featured in the New York Times, Time magazine, People, HuffPost, Time Out New York, and more. If you live in New York, check out her solo show on November 14 at Union Hall in Brooklyn.
This week, Brook talked with me about tweeting based on her mental health, making good points online, and brushing Twitter sleeves with Dwayne "the Rock" Johnson.
Tweeting has always been an outlet for my anxiety. I get on my phone, see a lot of stuff that stresses me out, and soon enough I am sweating and writing. I had this idea bouncing around my head for a while about how anxiety makes everything so high stakes you feel like you are Jason Bourne but without completing any cool tasks in the end. You can probably track how my mental health is doing by reading my tweets.
Do you prefer topical or evergreen tweets?
I think the most fun part of Twitter is the immediacy of it all and the ability to joke about something that is happening right in the moment. That being said, evergreen.
Sometimes something happens to me and I tweet about it without any thought right in that moment. I don't recommend it but that is what this was. I hope he's doing well.
What kind of comedy do you do in addition to writing jokes online?
A lot of people don't know this, but I wrote Nanette. I also perform at venues across the city, am a contributing writer for Reductress, and have an animated project in the works. I've been playing Serena Joy in the parody Handmaid's Tale: The Musical written by Marcia Belsky and Melissa Stokoski and coming to the Kennedy Center in Washington, D.C., on October 27.
Once in a while I make a good point on Twitter and this was one of those times.
What's the weirdest/coolest interaction that you've ever had on Twitter?
That's easy … this!
I am tired a lot. A beautiful thing about Twitter is the ability to participate from the comfort of one's bed. I am Very Very Young but have the mind-set of an 80-year-old retiree.
Karen Chee is a Brooklyn-based comedian who writes for The New Yorker, McSweeney's, and Shondaland, among other cool websites.