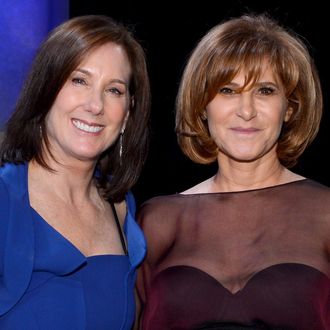 Kathleen Kennedy, left, and Amy Pascal.
Photo: Mark Davis/Getty Images
There's a grifter on the loose in Hollywood, busy impersonating producers Amy Pascal and Kathleen Kennedy, and the authorities are on the case. According to The Hollywood Reporter, the FBI and NYPD have opened investigations into the person scamming hairstylists, stuntmen, military advisers, photographers, and cinematographers into traveling to Indonesia for work on a secret project, as exposed in a THR report. Sources tell the magazine the "con queen" might actually be a man disguising his voice, though a linguist has identified the voice as belonging to an Asian female. In the meantime, it seems the grifter has moved her mark: More of her scams have targeted wealthy public figures, and fewer Hollywood-ites. Long live the summer of scam!