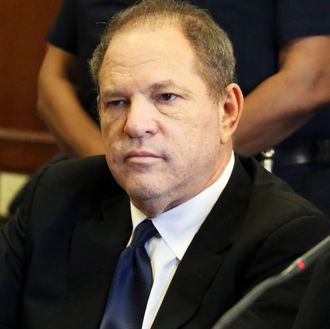 Photo: Jefferson Siegel/Getty Images
Before Ronan Farrow's exposé on Harvey Weinstein was published in The New Yorker last October, he had spent months investigating the story for NBC News. Now, former NBC news producer Rich McHugh, who worked on the story with Farrow, has accused NBC of trying to kill the story. McHugh left NBC just two weeks ago, and he alleges the network was resistant to their reporting on Weintstein, finally killing the story altogether in August. "Three days before Ronan and I were going to head to L.A. to interview a woman with a credible rape allegation against Harvey Weinstein, I was ordered to stop, not to interview this woman," McHugh told the New York Times. "And to stand down on the story altogether."
NBC disputes this allegation, "We repeatedly made clear to Ronan and Rich McHugh the standard for publication is we needed at least one credible on-the-record victim or witness of misconduct," president of NBC News Noah Oppenheim told the Times. "And we never met that threshold while Ronan was reporting for us." NBC News' executive editor Rich Greenburg also alleges Farrow's story did not meet their standards at the time, as there were no witnesses willing to go on camera, "The one we had the closest hope of getting, Rose McGowan, pulled out. She'd never say Harvey Weinstein's name on camera with us." Oppenheim says they did refuse to allow Farrow use of an NBC camera crew, as he'd already asked for and been granted permission to take the story elsewhere.
For his part, Farrow has repeatedly hailed McHugh's work on the story, "Rich is a fantastic producer and journalist," he said in a statement to the Times. "He's a person of integrity, and he cared deeply about the investigative stories we worked on together and the importance of seeing them through."
Updated, 8/30/2018, 11:54 p.m.: NBC News reached out to Vulture with the following statement:



The assertion that NBC News tried to kill the Weinstein story while Ronan Farrow was at NBC News, or even more ludicrously, after he left NBC News, is an outright lie.

 

In August of 2017, after NBC News assigned Ronan Farrow to investigate Weinstein and supported his reporting efforts for eight months, Farrow believed his reporting was ready for air. NBC disagreed because, unfortunately, he did not yet have a single victim of – or witness to – misconduct by Weinstein who was willing to be identified. Dissatisfied with that decision, Farrow chose to leave for a print outlet that he said was willing to publish immediately. NBC News told him "we will not stand in your way," and allowed him to take his reporting to The New Yorker, where, two months later, he published a strong piece that cited the following victims by name: Asia Argento, Mira Sorvino, Rosanna Arquette, Lucia Evans, Emma de Canes, Jessica Barth, and Sophie Dix. Not one of these seven women was included in the reporting Farrow presented while at NBC News.