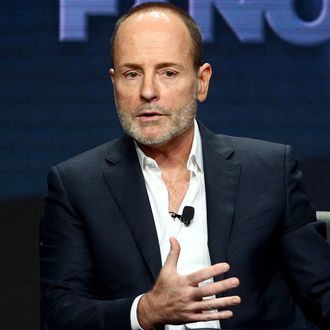 John Landgraf.
Photo: Frederick M. Brown/Getty Images
The man who coined the phrase "Peak TV" has decided that descriptor is now passé. With the explosion in new program announcements showing no signs of slowing down, "[It] makes me suspect the Golden Age of television has become the Gilded Age," FX Networks CEO John Landgraf declared Friday during a session with reporters at the Television Critics Association summer press tour. His network's most recent estimate of 2018 TV production underscored the continued rise in original production: There have been 319 first-run scripted TV series launched this year, up 5 percent vs. the same timeframe in 2017, with the bulk of the increase coming from streaming services. "My assessment that Peak TV would've peaked by now was wrong," Landgraf conceded.
Landgraf, a vocal critic of Netflix's spend-anything-to-make-everything Hollywood takeover attempt, didn't take any direct jabs at the streaming giant on Friday. Still, at several points during his TCA session, Landgraf couldn't help but let his concern over the company's business practices peek through. Comparing TV today to the Gilded Age — a point in American history known for income inequality and robber barons — was easy to interpret as a subtle dig at Netflix's programming largesse. And later on, Landgraf launched a mini-rant in which he drew parallels between broader issues of income inequality and what's going on in the TV business. Lax government regulation has "allowed what I call predatory economics to prevail across multiple parts of our economy," the TV exec said. "So when we have competitors that are losing money, that are basically trying to snorf up everything that exists" — in other words, Netflix — "that feels really crummy to me." Langraf was also quick to add he's "not a professional economist," and that he admires a number of Netflix shows and the positive aspects of its multi-billion program spend. "Ultimately I've got to respect anyone who helps find a way to help an artist find his path forward," he said.
What's more, as FX prepares for a likely future in 2019 as a unit of the Walt Disney Company — and media mergers result in even more consolidation of media giants — Landgraf said FX would fight its streaming rivals by increasing its originals footprint, which means expanding into other genres, including unscripted and late-night. "I hope we'll be able to do more," Landgraf said. "But I don't want more to be everything. I don't want to take over the world. I just want to make good television shows."
Elsewhere during his TCA presentation, Landgraf updated reporters on FX's efforts to increase the diversity of its on- and off-air staff. In some areas, the network has made dramatic strides: The number of FX series directed by white men has fallen from 88 percent in 2015 to 51 percent this year, he said. But two-thirds of the network's showrunners are still white men, even though that group represents just 36 percent of the country's population. "We're moving in the right direction, but we still have a lot of work to do," Landgraf said.