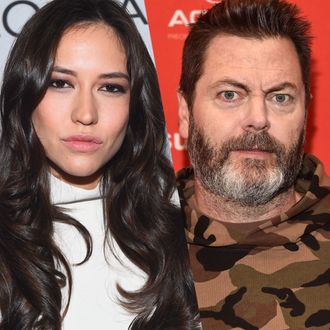 [
Annihilation
noise]
Photo: Getty Images
Alex Garland is [Annihilation noise] back, baby! FX has picked up a new limited series from the writer and director of Ex Machina and Annihilation called Devs, which, as you might expect, sounds like a spooky sci-fi series. Garland directed all eight episodes of the series, which has recruited a pretty awesome roster of stars. FX described the show as about a computer engineer, Lily Chan, who "investigates the secretive development division of her employer, a cutting-edge tech company based in San Francisco, who she believes are behind the murder of her boyfriend." Here's the cast and character descriptions from FX:



Sonoya Mizuno (Crazy Rich Asians) is Lily Chan, a software engineer

who works at Amaya, a cutting edge tech company, and comes to suspect her employer may be responsible for the death of her boyfriend.




Nick Offerman (Parks and Recreation) is Forest, the CEO of Amaya, whose obsession is the covert work of the company's development division.




Jin Ha (Broadway's M. Butterfly) is Jamie, a gifted cyber security specialist, who is Lily's former boyfriend.




Zach Grenier (The Good Wife) is Kenton, the terse, dry and dangerous head of security at Amaya.




Stephen McKinley Henderson (Lady Bird) is Stewart, a cultured intellectual from another era and one of the top technical minds working in Amaya's secret development division.




Cailee Spaeny (Pacific Rim: Uprising) is Lyndon, a young, brilliant, and stubborn employee who works in Amaya's secret development division.




Alison Pill (The Newsroom) is Katie, a gifted quantum physicist tapped by Forest to be his second in command at Amaya.
In addition to Devs, FX also announced that it has ordered a ten-episode limited series based on James Clavell's best-selling 1975 novel Shōgun, which was previously adapted into a mini-series in 1980 and follows an English sailor who ends up shipwrecked in Japan. Tim Van Patten will direct multiple episodes of that show, which will be written by Ronan Bennett. Perhaps they can just use HBO's sets from Shogun World.