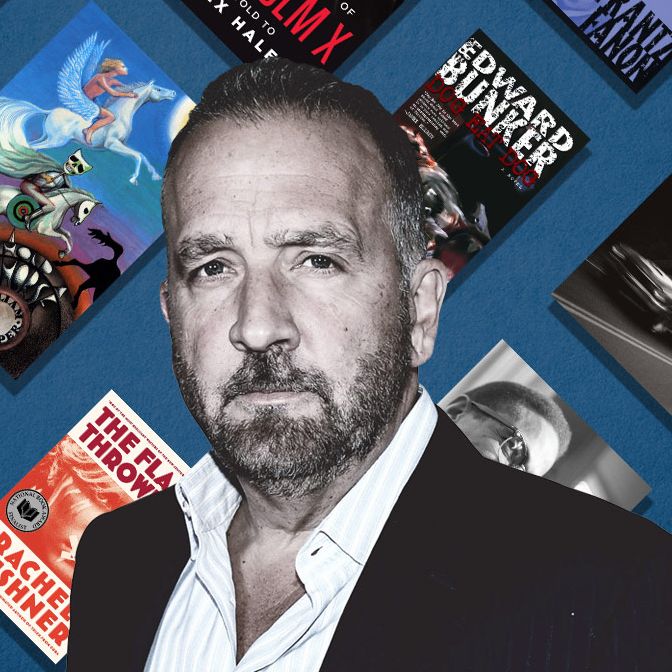 George Pelecanos is known as well today for the TV he's co-written — The Wire, The Deuce — as the crime novels with which he turned Washington, D.C., into a procedural stage set as compelling as his colleague David Simon's Baltimore. But his latest thriller, The Man Who Came Uptown (Mulholland, September 4), overflows with passion for his original medium. Michael Hudson, trying to fly straight after a prison stint, takes refuge in the books he fell in love with in prison, as well as the librarian who turned him on to Steinbeck and Dinaw Mengestu. Pelecanos's love letter to books was inspired both by his own reading and the workshops he's led in detention centers for two decades. Below are some of the books he's found to be unusually popular among inmates, followed by his own favorite books about prison life.
It would probably surprise people how prevalent reading is in institutions, and the degree to which some states discourage reading by instituting draconian rules and laws that try to limit and outright roadblock books in prisons. Incarcerated individuals want what most people want in a novel: good, honest writing and a story well told. I don't judge anyone of any stripe by what they read. Reading is always good for you. It's a positive act.
Jailhouse Staples
Behold a Pale Horse, by William Cooper
Conspiracy theorist Cooper published this in 1991, and it covers everything from UFOs to the Kennedy assassination to the Illuminati. It's banned in many institutions because of the alleged effect it has on inmates. That is, officials claim that this book gets prisoners too jacked up. Despite the ban, contraband copies frequently make their way into the facilities. Cooper was shot and killed by police, which only adds gasoline to the fire.
Megan Abbott, Laura Lippman, and Mary Karr
Many male inmates have asked for my recommendations of female novelists to help them "understand" women. These two very good writers always come to mind. (Full disclosure: Lippman is the spouse of my collaborator David Simon and Abbott was a writer on The Deuce.) I also recommend Mary Karr's memoirs, because of their tone of redemption and because they're very well written. For the ambitious reader who wants to go deep, I'll recommend The Flamethrowers, by Rachel Kushner, one of the finest novels I've read in years. Kushner's latest novel, The Mars Room, happens to take place in a women's prison. I'm looking forward to getting into it soon.
The novels of Stephen King
Because he tells a ripping good story. I've seen a lot of King books floating around in lockup. I've never seen one book by Harold Bloom. Just saying.
The Wretched of the Earth, by Franz Fanon; The Colonizer and the Colonized, by Albert Memmi
Two nonfiction treatises on revolutionary struggle, racial oppression, and the exploitation of the masses that are as popular and relevant today as they were a half century ago. Not surprising that these books have a long shelf life in prisons.
The novels of Walter Mosley, Chester Himes, and Donald Goines
Three African-American crime novelists whose books are popular in institutions. Mosley is prolific and literary, with a distinct voice. Himes's Harlem books, written when he was living in France, broke down many doors and have stood the test of time. Of the three, Goines was the pulpiest and most uneven, but his prose jumps like jazz. He was found shot to death, slumped over his typewriter. He was murdered, it was said, over a drug debt, cementing his legend.
The Best Books On Prison Life
No Beast So Fierce, by Edward Bunker
Among my favorites, Eddie Bunker immediately comes to mind. He was institutionalized for nearly 20 years and was a self-taught writer. His novels are raw and unsentimental, and in their own way, do more to indict our prison system than most nonfiction. Bunker's best known novel is No Beast So Fierce and rightly so. I like Little Boy Blue and Dog Eat Dog as well.
Committing Journalism: The Prison Writings of Red Hog, by Dannie M. Martin with Peter Y. Sussman
Inmate Dannie "Red Hog" Martin published this series of articles on prison life in one volume, and the work was so searing that the Federal Bureau of Prisons tried to stop its publication. Martin wrote a couple of good crime novels, too. In the Hat is the place to start.
The Autobiography of Malcolm X, by Malcolm X and Alex Haley
Not exactly prison lit, but the imprisonment of the author helps trigger his awakening and informs every page of this monumental work. Leave it to his critics to focus on his anger and not the social conditions that fueled it.
Hard Rain Falling, by Don Carpenter
The story of Jack Levitt, a small-time criminal in the Pacific Northwest whose juvenile offenses send him spiraling down a lifelong path of incarceration and deep internal conflict. The middle section of the novel, set in San Quentin, is both beautiful and tragic. This is not only great prison lit. It is an American classic.