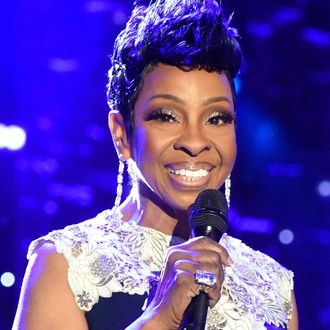 Photo: Kevin Mazur/Getty Images for NARAS
During Aretha Franklin's funeral on Friday, legendary diva Gladys Knight revealed that she has been diagnosed with pancreatic cancer. Knight, 74, told local station WDIV that she has the same disease that Franklin died from, according to the Detroit News. Knight didn't say when she was diagnosed or what treatment she is receiving.
Knight, known as the "Empress of Soul," is a seven-time Grammy Award winner. Her act Gladys Knight & the Pips was inducted into the Rock and Roll Hall of Fame in 1996.
Update, 3:30 p.m.: Actually, Gladys Knight doesn't have pancreatic cancer and is healthy. When the "Empress of Soul" told WDIV that she and Aretha Franklin "had the same disease," she did not mean it literally, her publicist has clarified. "I'm not sure [what she meant]. Maybe she meant she feels her pain. But she does not have cancer," Knight's rep Javier Delgado told the Detroit News.