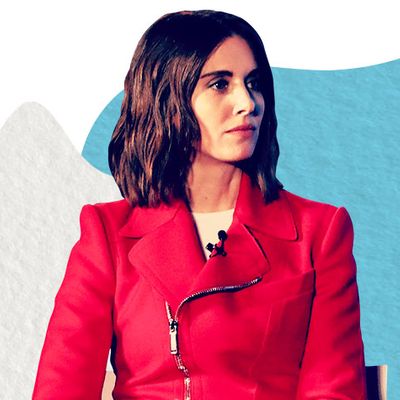 Photo: Maya Robinson/Vulture and Photo by Getty Images
The summer of 2018 has brought nothing but good news to Netflix's GLOW. In June, its second season dropped on Netflix to a warm response from both critics and viewers. In July, it received ten Emmy nominations for its first season, including one for Outstanding Comedy Series. And just this week, it was renewed for a third season by Netflix.
With Emmy voting now in full swing, it's an especially timely moment to share TV critic Jen Chaney's Vulture Festival conversation with GLOW creators Liz Flahive and Carly Mensch, and stars Alison Brie (Ruth), Chris Lowell (Bash), Sydelle Noel (Cherry Bang), Gayle Rankin (Sheila the She-Wolf), and, in a surprise appearance via Skype, Emmy nominee Betty Gilpin (Debbie). Among the topics covered: Russian accents, mastering wrestling moves, how current events intersected with the making of season one, and the unique benefits of working on a female-run show.
I wanted to start with a question for Liz and Carly, the creators of the show. I know that you were inspired by having seen GLOW, the documentary. Talk a little bit about that, how you came upon it, and why that made you want to make a show based on that.
Carly Mensch: I'm a nerd who watches a lot of documentaries. I was watching it, and I remember I texted Liz immediately like, This is a show. We're theater people, so we were attracted to the theatricality in wrestling. The ring is almost like a stage. It's a squared circle where special things happen, and then you can also tell stories about the real lives outside the ring. I was talking about the '80s and the place of women, and we were thinking a lot about, What was it like for women in the '80s? How does that inform today?
Liz Flahive: It felt like a tonal space we could live in. It felt like we could tell all these very intimate stories and do things that were really theatrical.
CM: We're not people who knew or understood wrestling, I think we should admit. We're people who, in finding our way to understanding it, we saw the world in terms of the black and white in the ring — the stereotypes and how they see you — and then the world around it was gray. That was a very fertile ground for characters and watching them try on these personas.
Speaking of the personas, I want to go down the line with all the actors, and ask you about developing the wrestling personas. I know there was an actual GLOW wrestler who did have that Russian alter ego.
Alison Brie: Yeah, Ninotchka.
Right, Ninotchka sort of looked like Pat Benatar.
AB: Yeah. Well, but blonde.
How much of inspiration did you derive from that, or did you really try to invent your own thing?
AB: I guess it started from wanting to invent my own. They had me doing a Russian wrestling character in my auditions, and I did some great improvisation that I think helped get me the part, where I rhymed Natasha and Boris with clitoris. I feel like it started there, and we're able to just run with that kind of stuff when we're in the ring. But I have gone back many times and watched videos of Ninotchka. Mostly to gauge where her accent was in terms of broadness. Even for wrestling inspiration, it's more fun to go back and watch old episodes of GLOW than to watch contemporary wrestling, 'cause a lot of the contemporary moves we can't use. They weren't yet invented. Things are much flashier and maybe a little better now. They're so skilled, wrestlers today. The way that the women of GLOW were doing it, it was scrappier, so it really fits in with the way that we do things.
In terms of your Russian accent, was that something that was in your repertoire already?
AB: Kind of, but I really didn't know that it was until I went in to audition. The line that I would think of to get into it was, Lake Bell wrote this movie — do you guys know this movie, In a World? There's a point where she does a Russian accent, and she's like [Russian accent], "These are not the droids you're looking for." [Pause.] That was not a good example of it. I was not prepared to do this. And so, I listened to her do that one small line, and then once I got the role, I got a Russian accent disc to listen to in my car. But it was almost more cartoonish. It was a man doing it and it didn't quite sound right. The Ninotchka videos were my home base to come back to, in terms of what I was doing, but it was in there. I don't always think it's that accurate of an accent, but whatever I'm doing certainly existed within me.
Well, it doesn't have to be super-authentic, necessarily.
AB: No, exactly. I certainly would take that seriously if it were meant to be taken seriously.
Chris, did you go back and look at the original announcer?
Chris Lowell: Yeah, I got cast really last second, and when I showed up on set, it was in the middle of the third episode. It was this episode where we go to Bash's house. He has the robot and he walks around in an Elvis costume.
LF: And you had a helicopter.
CL: And I had a helicopter. My first day, I got in a helicopter with a cell phone that looked like a Molotov cocktail in my hand.
LF: You're welcome.
CL: Thank you. And I had these insane clothes. I remember trying to figure out the world and where I fit in it. I remember just making these crazy choices that Liz and Carly were more than willing to push me in that direction. And I remember getting to halfway through episode four, feeling like I'd really taken ownership of the character. I feel like y'all have given me such leeway to figure it out. Show up, have them blow my hair into this insane blimp, wear this crazy jewelry and those clothes. So much of the work, I feel like, is done for me. When you are dressed like that and look that way, it thrusts you into the part in a way that's really liberating.
CM: Your note cards, tell them about your note cards.
CL: Then I have note cards. When I'm announcing, I'll have these note cards that Liz and Carly or anybody else on the show has written, and then I'll start writing little ad-libs, which I just start throwing out haphazardly when we're shooting.
CM: Whacka whacka whammo.
CL: Yeah, whacka whacka whammo. Wham, bam, thank you, Sam … I really got carried away with some of my ad-libs.
Was there a Junk Chain equivalent in the original?
Sydelle Noel: I didn't really see any. Cherry Bang and Justin are pretty much … what Liz and Carly came up with themselves. To prepare for my character, I pretty much looked at a lot of blaxploitation movies. Because originally in the breakdown, it literally said that Cherry Bang is the stunt double for Pam Grier — think of Foxy Brown. I literally looked at all Pam Grier's movies and a lot of blaxploitation movies. That's what I did to prepare for my role.
Sheila the She-Wolf is an original, isn't she?
Gayle Rankin: Yeah, pretty much. We talked a little bit about Matilda the Hun, there's some kind of animal — who am I kidding? There's no one like Sheila the She-Wolf. Liz and Carly really did Sheila from the ground up.
CL: It is always fun on set when you see everyone coming in with their crazy outfits. You can set your watch by Gayle rolling up in those crazy fishnet torn things and the boots. I remember saying at one point in season two, Do you literally only wear this?
GR: You just realized that in season two?
CL: It was more like I was saying, Wow, you're always in this. And you were like, No, that one time I wore pants.
GR: I got pants. I've never fucking — sorry, wow. We can swear? I got a fucking fur coat. I get very excited.
LF: With Sheila, we're like, Should she wear jeans? and it's like a two-day conversation.
CM: She could have been a crazy idea for a wolf, but instead I feel like you built her from the inside.
AB: That is the great thing about this show. We get to play these crazy characters in the ring, but the rest of the show is so well written, it's so nuanced, the characters are so nuanced. Episode four of season one — where we have those conversations with Sheila and find a little about her process and her life — it's so deep. And obviously, you play it in such a moving way. As actors, it's such a fulfilling show. And then we get let loose in the ring and its, Wham, bam, thank you, Sam.
CL: It doesn't feel like you're confined to doing just comedy or drama. I think what you're talking about — being able to have an unbelievably theatrical space, but also to hold a mirror up to what was going on — is really liberating and exciting.
Chris was talking about the costumes and the hair and how that helps you really embrace the character. I have to think for you, Gayle, that must really be the case, because it's true of the character as well.
GR: Totally. I didn't realize what a big decision those fittings were going to be with Seth Morgan — because Liz and Carly knew from the get-go that this is what this woman was going to wear the whole time, you know. I hope there are photos around somewhere of previous iterations of Sheila's look. We wanted it to feel like it was coming from me. That really helped me figure out who she was.
We're going to show a clip in a second and I wanted to ask Liz and Carly about this. This is the opening scene of season one, the audition that Ruth does. And I love the scene because it tells me so much about what the show is about, even though wrestling hasn't even come into it yet. So I was wondering if you could talk a little bit about why you decided to start with that audition.
LF: We always intended this to be a story about a struggling actress and thinking about a lot of our friends now, who are actors, we will always hear stories of people coming in and auditioning for the role of what we like to call "exposition wife" where the wife comes in with something and tells you something and then exits after delivering her line of exposition. And so that was something we'd always come back to in terms of the scarcity of roles for women and thinking about that in the '80s and thinking about that now, frankly, too. So sort of pinpointing that idea at the top of the pilot was important to us and showing a woman who was really willing to do anything to get past and what does that mean.
All right, let's take a look at the clip … What's interesting about watching that is obviously there have been these issues forever about parody in the entertainment industry and they were issues when this came out, but now that the Times Up thing has started since season one came out, it feels even more relevant. Has that affected your approach going forward with season two or any seasons you may do in the future as far as how you're telling the story?
LF: I think to be really, really honest, Carly and I came up in rarefied air, we were always working for female showrunners since the beginning of our TV careers so I feel like we've had very good examples of how things can go across the board in writers rooms and in shows — we've written for shows with strong female characters from the beginning, so I think we've got what to do as opposed to what not to do.
CM: I don't think we're changing our ways as much as we have so many women in the writers room and we're all telling stories because that's what we draw from to put in the show. Those stories are just out there. Just being surrounded by so many women, we've been aware of this for a while and it's very exciting that times are exposing all these stories. But I think most people except Chris can tell some story — maybe Chris has a story.
CL: Victim stories. Not perpetrator stories. I can tell you what was interesting was there was a real sense of empowerment on the show. I think all of the ladies were constantly, there's a real sense of excitement, of things going the way they've always wanted them to go, and should be going. And I think the irony is that [during] season one, Donald Trump got elected in the middle of it, which was intense. And then in season two, Harvey Weinstein got elected to the gallows, in a great way. But similarly, things on set switched from feeling like a celebration to, This is so important that we're here telling these stories.
AB: Yeah, it is like the symmetry of what's happening. We were in the middle of season two when all of that news was breaking, and these episodes had already been written and we had an episode that deals very specifically with abuse of power in a sexually specific way with a producer. That was written before those stories were made very public, but obviously, we're realizing more and more it was something a lot of people had an awareness of in the industry and that women have been dealing with since the birth of this industry and in all industries. But it did make it very gratifying to be filming that stuff on such a wonderful set while it was happening.
Chris, you mentioned that Trump was elected when you were shooting season one. How did that affect you all in the midst of production?
SN: I totally remember that day like, the next day when we got in on set, and it was very dark. It was a lot of crying and women embracing and hugging each other. I remember this.
CM: I remember we were doing this episode that had a KKK match in it, and I think we felt a lot differently. Before, there was some trepidation. We're doing this taboo thing, even though it's wrestling and it's the '80s and it's part of the blood of wrestling, but in it there was some nervousness. Trump got elected and we were like, We are doing this episode.
LF: It was also a moment where everybody was like, I'm coming to set and I'm just going to hang out. The day after he was elected, everybody stayed. Everyone just came to set. Our executives came. They were like, We just want to hang out here. That was the thing that was really beautiful. Jesse Peretz — who had directed our pilot — had come back to just start episode seven. All of us being there and being around each other as we filmed this crazy scene, it just helped.
SN: That's when I knew that this show was something special. That was a dark time, but yet we all came together and it was almost like family. We were literally embracing each other and being friends and being there for each other. It felt, during that dark time, that we were together and so there for each other. That's when I figured this show was really special and it's not just a show. We were all family.
AB: We were realizing the power of this support system that we had in this place and of the stories we were telling. We had been shooting the day of the election. People had TVs on beside where the ring was and it just got darker and darker. The next morning, I just remember vividly that all of the women — they must have been shooting something — we all had wrestling practice that morning, rather than coming right in to shoot. We all came into the wrestling gym and everyone woke up so depressed. It was like, I've got to go to work. And then once we got there, it was this feeling. We were there with Kimmy and Rebecca as they were rehearsing for the first time in their KKK shrouds, and we were holding their hands. It did just feel like, Thank God this is where we work and thank God these are the stories we're telling.
CL: In the last couple of years, politically, there's been a hunger that a lot of people have had to do something. They're passionate about it. For us to be able to have a show — to have a place to communicate a point of view and tell some important stories — I think helps to find a creative place to place those feelings.
AB: It's that best of both worlds where we get physical aggression out in the ring, but then the show itself is very hopeful and optimistic. It is fun to look at certain situations with some levity, and maybe we do need that lightness right now, as well.
Let's go ahead and take a look at that KKK clip, since we're talking about it. We said the show was bananas. Knowing that you shot that the day after the election adds a whole layer to it. I wanted to ask, how weird was that to shoot?
SN: It wasn't actually that weird. What was weird when I first read it — I was like, Oh my goodness, we doing this? I didn't know how exactly it was going to be portrayed and I had some concerns, and what's really great about Liz and Carly is they were like, Okay, let us know your concerns. They presented me with all their notes and were like, this really happened. And I had to acknowledge that this really happens. There was a wrestling match with the KKK in it — much more racist, of course. But yeah, it was crazy. That's what I love about them. They actually let me voice my concerns and let me see what they had envisioned. As you can see, we do it in a tasteful, funny way where it can be laughed and not, What the fuck?
GR: Also, you are so special in that scene. The way you enter that scene is really powerful. As funny and light as it is, there's a real depth to what you're doing. Even if you aren't aware of it, it's really powerful to see you dealing with the insane pain of what's happening, and fury.
LF: Also, that wrestling match is from your point of view. Your character drives that story, as opposed to moments when you're trying to do something that feels a little bit bigger and scarier in terms of what you're taking on in stereotypes. We're looking at it from our women's point of view, our characters' point of view. That makes all the difference, too.
CM: Kia Stevens, who is in the scene, is a professional wrestler. We use Kia as our barometer. We'll go to her and be like, Too offensive? And she'll be like, No, no, I've played so many racists. On the taste meter, you're not even close to how bad it's gotten. And that's very helpful. Wrestling allows you to cross lines you wouldn't get to cross, even in a comedy. It's very helpful to have her. Even going into that scene, we were so grateful to have her. She empowered us to do it.
CL: There's also something really nice about the different times that stereotypes that are addressed on the show. With Sunida in the finale of season one, suddenly there's hard-core racist epithets thrown out at her and it's this wake-up call and rude awakening in a really painful way. And then there's sequences where it's like, How good does it feel to beat the shit out of the KKK? It feels really empowering. Sometimes it does feel empowering, and other times it feels exploitative. How do we grapple with that? How do the characters grapple with that? I think it's a really dynamic way of approaching those stereotypes.
SN: And you mentioned Kia — I'm so grateful for Kia. Even in that moment before we yelled action, we're in that hallway and Kia's like, You better own that shit, you better go out there and you better do this. She's pumping me up. Those motherfuckers, we 'bout to kill them!
And after Charlottesville, it's even more powerful and thought-provoking to watch it now. On a lighter note, I wanted to ask you guys about the wrestling aspect of this, because I know you did a lot of training. What did you find difficult about learning how to wrestle, and was it harder or easier to do it in season two versus season one?
GL: It's emotional. All the women, we all come from different physical backgrounds, but we're all very capable. We all found we're very capable of a lot of the stunts, if not all of them. I think it was more about taking up space and what that actually feels like. And how unnatural that can feel for a women. Taking up space and using your body in a really physical way actually isn't that common for a woman to get to do. And so we grappled a lot with that. It was an emotional journey. We were really supportive of each other and trying to feel comfortable in this new way of using our body.
SN: For me, the physical part wasn't that difficult for me, it was more — I came from track and field, which is an individual sport, whereas wrestling is definitely a team sport. It's a team. If we're not connected, if we're not together, there's no way I'm going to be able to body slam you. It's about you and your partner and keeping your partner safe and doing it together.
AB: And making your partner look good. So it's letting go of ego.
SN: Exactly. And that's what I had to do. I had to let go of my ego and work as a team more so than an individual, for me especially in season one. Season two, I think all of us came back and we're headstrong, we're like, Let's do this. Everything was faster. It was just like a refresh. We were more head-driven and more strong coming back for season two.
AB: I agree with that. In season one, for me, it was like the fearlessness of all of it, which was also the most exciting and empowering thing. I guess I'm an athletic person lately — and certainly more so now doing this show — but I would never have described myself as an athlete. I had never done sports. There's so much that we were learning that you just never even imagine yourself attempting. And it's scary shit. Like, Dive forward, but roll your head quickly so you don't snap your neck and then land perfectly on your back. And like what Gayle was talking about, inhabiting your character in the ring is such a big part of it, telling the character's story. I feel like that's how Chavo Guerrero Jr., our wrestling coach, would rev us up a lot of the time. He'd be like, You're Zoya now! You have to go after it! Because you can't do any of the moves with hesitation. It's not like you can do anything in slow motion to see how it's going to go. Because the moves won't work. That commitment to doing stuff that's really scary was the biggest hurdle.
Was there one move that was really the most difficult thing for each of you to learn?
AB: We all had some trouble with the sunset flip, but it's so fun. The sunset flip is a girl is bending over to touch her toes, and then another girl runs at her, dives over her body, does a full flip around her, pulls that girl down onto her back to pin her.
CL: The whole point of season one was everyone was learning how to wrestle. And I remember the first time I watched y'all do it, you were doing somersaults and they were meant to be rough and bad. And then, we shot the finale and I just remember watching you guys like, Okay, then Betty is going to climb to the top of the turnbuckle, jump backwards, flip and land. I was like, Are you fucking crazy? I've seen you do it and every time I'm still like, This is insanity.
AB: I know, it's nuts. The crazy thing is Betty actually does the sunset flip to me in episode ten of season one. I'd only been on the other side of it, going, This is easy and fun. Wee! And then it was time to learn the other side and I was like, What has Betty been doing all this time?! But that is a classic example of a move where you have to run at this person with all your might in this short distance in the ring. When you nail it, it's such a fun and gratifying moment. That's why learning how to wrestle has been so empowering for all of us to be like, Holy shit, I can do it.
SN: I remember the third episode, when I'm teaching you guys how to back bump, we literally were just learning that and I had to be the one that really knew it. I'm on the stage with everybody and I see the whole crew just looking at me. I'm supposed to be this badass stuntwoman that knows everything and I'm just like, Guys, I'm kind of nervous here. Everybody's looking to me to see if I can really do this back bump. Everybody's like, You got it, you got it, you can do it. It's the whole trust issue going on your back. Not that I got trust issues, I'm just saying. [Laughs.]
AB: A back bump is like doing a trust fall to no one.
CL: It's like doing a trust fall and your partner leaves.
SR: It doesn't feel safe. Actually hitting your whole back on the ground is the only way to make yourself safe.
SN: And tuck your neck so you don't hurt your neck. I just remember I was freaking out because I just had all these eyes on me. I'm just like, Can't think about it, can't think about it. And you guys are like, Go, go, go! And then, you're like, Oh, I did that shit. Let's do it again. You just need to get over that hump.
AB: Don't think, just do it.
LF: The best is watching when we're doing wrestling. The girls are all in the ring or around the ring and then there's this little sports spectator area of producers who are watching. It's like watching sports. We're just like [whipsers], Come on! Yes! Yes! Silent because it's a set. It's just so bonkers how that energy is so pervasive.
SN: We have this shot that we shot in the second season. It's a big move that Britney and Kate did?
AB: Oh, yeah.
SN: It's huge. It's a front flip.
LF: We won't spoil it. We gotta cut the story out.
SN: It's huge. But they did it. It's a huge move. It looks so good. Kate and Britney make it look so good that we all freaked out after they said cut. We were like, Holy shit! Ali runs on there in the ring. Everybody runs in the ring. I think we posted it on Instagram. We're literally just jumping around the ring just saying …
AB and SN: Holy shit! Holy shit! Holy shit!
AB: It was great. That day, we were shooting this montage and none of us had been in the training sessions — we break off to learn our individual matches — so we hadn't seen each other's big flashy moves. We were watching everything live for the first time, blowing each other away. That was the final one and we were all just like …
AB and SN: [Screaming.]
AB: It was incredible. That's the energy on the set all the time. It is higher when we're shooting scenes with wrestling, but even when we're shooting scenes with dialogue, we'll finish a scene like, Fuck yeah! Holy shit! Oh, I just had some dialogue with Bash. Yes, it went great!
You mentioned Betty Gilpin earlier.
AB: Yes, she is on our show.
I think we may have a little bit of a surprise.
[Betty Gilpin appears onscreen.]
All: Holy shit! Holy shit! Holy shit!
Can you hear us?
Betty Gilpin: Wait, what? Hi, I love you all. You look very beautiful.
LF: This is very comfortable for Betty. This is how she enjoys interacting with the world and being seen on Skype.
BG: It's my dream.
Okay, I'm gonna throw you a question because we talking before about the impact that Trump's election had when you guys were shooting. You are playing Liberty Belle at an quite an interesting time. I read a piece that you wrote for Glamour that was really great, where you talk about this a little bit. What it's like to play that character right now?
BG: Oh, boy. I think we should give Trump a chance, he seems so charming [Shakes head.] Yeah, I mean, playing Liberty Belle now is a crazy thing. When Liz and Carly told me about Liberty Belle and that I was going to be playing her, I pitched to them, Oh, what if she gets in the ring and she's Blanche DuBois, Miss America, and then when she gets mad she kind of Hulks out and becomes like Trump's America? They were like, No, that's not what wrestling is. There's no gray area in wrestling. It's good versus evil. Black and white. Really, wrestling helped me think about what's happening. A Trump rally must feel like a big good versus evil — you know when to cheer and when to boo and when to scream and when to pound your chest and you get to feel like a warrior. I would just suggest to those people that they go to a WWE Smackdown instead of a Trump rally.
That's good advice. I wanted to ask about the relationship between Debbie and Ruth. Did you, Betty and Alison, know each other at all? Had you ever met before you did the show?
AB: We met during our audition process. Betty and I auditioned together twice before we got the roles on the show. It was like chemistry tests with each other. I think that that really bonded us. We were rooting for each other to get the roles as much as we wanted to get them. Then, once we got the parts, we tried to bond really fast before we started shooting the show because you really only get to see Ruth and Debbie be friends in two scenes before their friendship is torn asunder by Ruth's actions. And it was so easy to build that foundation. I mean, basically, I fell in love with Betty immediately and still love her so much. We went to a Pat Benatar–Melissa Etheridge concert. What else did we need to do?
Was that your getting-to-know-you thing? Was to see Pat Benatar and Melissa Etheridge?
AB: I asked her on a date there.
BG: I mean, I'd never played a dynamic like Ruth and Debbie before. Whenever I'm in a scene with Alison, I picture me reaching out with one hand and holding like a shiv in the other. They want to be connected so badly. And I feel like wrestling has been the perfect excuse to be connected and to be near each other, holding each other and supporting each other while not being able to make eye contact.
I want to read something, actually. In that Glamour piece, you wrote, "GLOW was the first set I'd been on run by women. It was a magical never-never land run by type-A amazons. I saw power and care together for the first time. Seeing women possess those two things simultaneously was a huge lesson for me. Creators Liz Flahive and Carly Mensch commanded our set with a greater authority than any of the bro-gargoyles of yore, but with open arms, back rubs, and eye contact. This created the constant sense of: You are loved and celebrated — and now that you're comfortable, please give us your goddamn guts and soul so we can make the best thing possible. Also, have this Philly cheesesteak for God's sake." I loved that. What kind of difference has it made for you being on a set that is so much run by women?
BG: A lot of the reasons I became an actor were from the beta side of my personality, I think. Observing human life and shutting myself up in my room and writing in my journal. Then, I realized I was missing all these brave, type-A qualities to be front-footed and not afraid to participate in the world with the creative ideas I was having. I realized that being on a female-run set, you can outsource those qualities that you are missing from the other women around you. I found that working with Alison Brie has truly changed my life. I have outsourced bravery and joy and organization and so many things that I lack. I see her have the creative qualities that I have, but also the front-footedness to say, I have ten ideas. Let's try them all. I also feel that from Liz and Carly. I don't feel like I have to waste the first three takes auditioning for the job I already have. I would try my weirdest, clowniest, ugliest face idea on the first take, whereas on a male-run set I would've slipped it into the fifth take and then been like, Never mind, never mind. You can use the squinty, icy one.
To the rest of you, the same question. Compared to other sets you have been on, what feels different about this one?
AB: Everything Betty was saying. It feels so safe and comfortable. I think for every woman existing on a male-run set, there's an aspect of anytime you want to assert yourself, you still must appear fuckable or something. That just didn't exist here. It helped in terms of this journey that we were all on with our bodies — being really empowered using our bodies in a different way and realizing the power that existed here. At the same time, there was an absence of over-sexualization of our bodies. We spend most of our days in very little clothing on the show, but felt so comfortable and respected and heard. Also, really inspired by all the women. To be able to look around and see so many different types of women within our cast, coming from all kinds of backgrounds and letting themselves shine in different ways. Also, our directors, also Liz and Carly. Great inspirations to us all the time.
SN: I totally agree. GLOW was my biggest thing in my acting career that I got, and then immediately after I went to Black Panther. I literally only had two weeks off and then I went straight there. Working on Black Panther and then working on GLOW, I remember texting the girls on WhatsApp like, "I miss you guys" because it was literally like you just said. It was so kind and it was like a family. Then, I went to work in the Marvel world and it was just like, This is what you're doing. This is what you have to get done. With Liz and Carly, it was like, What's on your mind? What do you do? What's your thought? That's not how it is working with Marvel.
SR: If you're not quite there yet, if you're not all the amazing qualities that you need to quite be yet, you're seeing women hold your hand and pull you along with you. Everyone has something to offer that you don't necessarily have yourself quite yet. You're not judged for that.
LF: It's a team story. It's a meta thing. We're telling a story about the group of women, and the thing that's amazing about the group of women is that they all lift each other up. Nobody is left behind when we're doing things. We feel that in the storytelling. I feel like it happens because we're just asking so much of these people.
SR: It's not always perfect. No one is always perfect. If someone is having a bad day, it's not the end of the world.
LF: There are so many of us. We're going to absorb whatever this is and go over here.
AB: I do just feel like the biggest difference is having women at the top because then they employ more women and they make it a really easy place for women to work. We have a lot of new mothers that have worked on our show. Carly is one of them. We have another in the writers room. We have female directors come in that might not have been able to do another show or feel comfortable leaving their baby. They come to our set. They have a pumping station set up in their trailer, which means something. It does make a difference to working mothers to have a space like that. That is thinking about your needs so that you can do the best job you can do.
Yeah, I used to have to pump in a closet at my old job. Not at New York Magazine. They would never make me do that.
All: [Laughter.]
AB: Now, you have a whole trailer in which to pump.
LF: It's an intense thing. We have a lot of women on the show, a lot of women in the writers room, we have a lot of women on our crew, we have a lot of people with small kids. Dinnertime is the best. Making a show is a lot of hours. It's a lot of fucking work and you don't see people for many of those hours, but dinner break, people just bring their kids and we see our children for dinner and then they go. It's so great. I feel like there are places they're like, Oh yeah, bring your kids. And then your kids show up and they're like, What are those kids doing here? That's not our show.
CM: I remember when I got pregnant season one during filming, I went straight to Liz. Because even though we're women at the top, we're all female executive producers, I didn't want to tell a single person. I was still scared. I remember thinking, I'm finally the boss. Am I gonna have people come up to me like, "How are you doing? Are you feeling okay?" I was so scared. Then I remembered, I don't know what I'm scared of. I came to season two with a baby. I had so much support and help, both from Jenji's [Kohan] office, which has a nursery, to the set, where I think all of you got to meet my child many times. Liz's kids come from dinner all the time. We have two actors on the show with kids. It just felt like such a different tone. We work our asses off, but we also have a family.
LF: That was the great thing about the top down for us. Jenji was the first one to say to us, You need to take a day off. You need to see your family. You guys are working like maniacs. Take off a day. And we do it as a rule. I think the other thing that happens with women making things and in production, you have to have a conversation with each other. If you have little kids, it's like, Can you do mornings? Can you stay? Do you want to go home for dinner and come back? Do you wanna leave at six and then we figure out who covers six to when we wrap? That's how you don't lose women from the production cycle, from these jobs. People have trouble figuring out how to balance a work life and a family. These conversations that I think are tricky — they weren't tricky here. That was a big thing that we wanted to do, given where we are in our lives. They're the conversations we have to have, so everybody gets to have them.
This panel discussion has been edited and condensed.