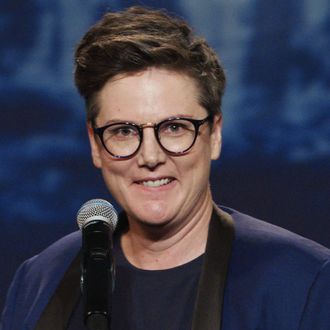 Hannah Gadsby in
Nanette.
Photo: Netflix
Get ready for Nanette: The Book. Australian comedian Hannah Gadsby has followed up the surprise success of her Netflix special Nanette by writing her very first book. Titled Ten Steps to Nanette, the memoir is slated to be released in Australia next year by Allen & Unwin, and according to New York Times reporter Alexandra Alter, it's now been sold to American publisher Ballantine as well. The memoir follows "the funny and sometimes dark events of the Australian comedian's life leading up to her realization that she had to quit comedy as she knew it." Here's the description for the Australian release:
Hannah Gadsby always dreamt of being a cool kid but she had to accept that, just like her childhood dream of being a dog, "normal" isn't always possible.




In the vein of David Sedaris, Hannah's memoir is a string of stories that draws together the varied funny and sometimes dark events of her life, compelling readers to understand the damage society can visit upon those (like Hannah) who find themselves on the outside.
Ten Steps to Nanette was originally supposed to hit Australian bookstores earlier this year, but according to a Vanity Fair piece on Gadsby last month, the comedian had to put writing the book temporarily aside "due to the emotional demands of the show, which she describes as a beast."