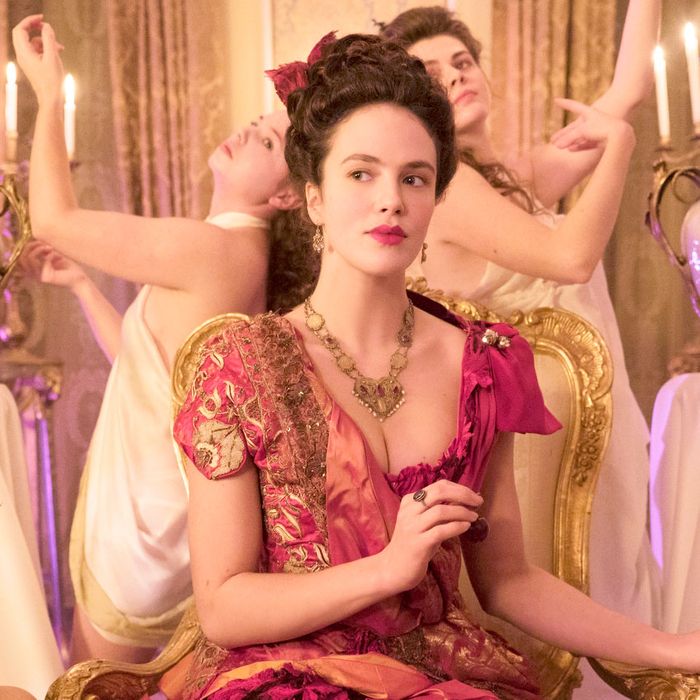 In a particularly memorable scene in Harlots season two, a dim-witted man named Charles Quigley (Douggie McMeekin) ventures into the streets of Georgian London in search of new women to work in his bawdy brothel. He eyes Cherry Dorrington (Francesca Miles), a little person, with curiosity and says, "Hello little pixie, what world did you fall from?"
"I'll fall on your face for five shillings," she replies.
The Hulu period drama is full of sassy retorts like this one, delivered by women selling their intimate company in London's Covent Garden circa 1763. Harlots transports its audience to the filthy streets and pastel parlors of 18th-century Soho like other British period pieces you've seen before — replete with enormous powdered wigs and jewel-toned corsetry — but since so much of the action takes place in the boudoir (and up against the gutter walls), the dialogue is especially risqué. In the first season alone, there's no less than five imaginative terms for breasts, and eight for sex. The word "harlot" itself is repeated several times per episode, as are its various synonyms like "haughty, sneering slut" and "forward, flaunting hussy." There is something about old-fashioned insults, as any Shakespeare fan will attest, that sounds satisfying to modern ears, and Harlots brims with them.
When penning the script, Harlots creator Moira Buffini found inspiration for graphic language from a variety of primary sources, including the best-selling Harris's List of Covent Garden Ladies and Nocturnal Revels, "guides to whoring" that read like erotica written by and for men. Buffini was drawn to the outrageous lives of the "great courtesans," and her all-female writing team wanted to tell their stories of adventure and survival. But how to make it sound authentic? A thesaurus of archaic British slang came in handy for generating expressions like "nasty slit," "prick stand," and "cockish moll," which Buffini says add grit and humor to the narrative. "I love swearing. I think it's like salt and pepper and really great spice, when well used," she says.
As for where Harlots falls on the spectrum of fantasy versus historical accuracy, "Some of our language is completely made up," Buffini admits. "If we try to be too historically accurate, the language would become too obscure. We want it to feel really alive." One of those invented phrases is "flap dragon," which refers to a venereal disease a harlot is rumored to suffer. ("We made it up," Buffini says. "We just thought it was hilarious.") But overall, "[The script] has its roots heavily in the 18th century. We sort of know when [a word] feels wrong, or too contemporary. Some phrases sound jarringly modern, so we tried to weed those out." The main exception: If an anachronistic term really suited a specific character, Buffini says they would include it. The appellation "dirty puzzle" is from the 19th century, but it fit Charlotte Wells (Jessica Brown Findlay) nicely, so the writers kept it in.
Hailed as a feminist workplace drama, Harlots lets the female characters do most of the dirty talk, perhaps because they do most of the talking in the first place. The male characters, like Charles and Sir George Howard (Hugh Skinner) are largely portrayed as overgrown children and fools — "saddle-gooses" and "fopdoodles" in the parlance of the era — useful only for their coinage. The real drama happens among the enterprising women who take pride in their ability to "ride the pole," "pull a peg," and "blow a flute." The girl-on-girl verbal sparring between the two rival bawds, Margaret Wells (Samantha Morton) and Lydia Quigley (Lesley Manville), often plays out like a comedy roast battle, complete with below-the-belt epithets like "rancid bitch," "she-hound," and "wicked harpy." Occasionally, itinerant preacher Florence Scanwell (Dorothy Atkinson) tosses her ruffled bonnet into the ring, calling the harlots "grinning succubi in rotten ribbons, a poisonous slurry between their legs." For these characters, who have "no economic standing, and no status in society whatsoever," Buffini says that articulacy gives them a degree of power. "That's what language does. It doesn't have to be learned articulacy, it can be street articulacy," she adds, comparing Harlots to The Wire in this respect.
Although the harlots depend on their "culls" (the equivalent of what would today be called a "john" or "punter") to survive, they don't have to revere them. "The bigger the wig," Fanny Lambert (Bronwyn James) jokes under her breath, "the smaller the pintle." Pouty Marie-Louise (Poppy Corby Tuech) speaks French during sex to excite her customers; they have no idea she's just repeating the word "money" over and over, when she isn't saying things like, "You puddle of piss, you smell like a cow's arse." The harlots can detect, better than anyone, the fragile masculinity of the nobility, and the hypocrisy of the justices who traverse from brothel to courthouse and back.
Even the most dramatic moments of the narrative include amusing turns of phrase. After a male prostitute named Rasselus (Josef Altin) cannot afford a doctor for his dying lover, he laments, "I play the whore-pipe for a penny a tune." When the self-proclaimed "Duchess of Quim" Emily Lacey (Holli Dempsey) finds herself in danger, she pleads, "I want to live long enough to see my muff turn silver." For Buffini, it was essential that Harlots include this element of humor. That's why, when choosing writers, she looked for those who brought a "comic vision of the world." No matter how dark the circumstances were for Georgian harlots, she argues, "humor was their shield and their weapon."
Of course, the Harlots writing team has a favorite 18th-century word they discovered in their research: "fuckstress," which meant exactly what it sounds like. (For once, a male equivalent also existed, a "fuckster.") "I just couldn't believe it!" Buffini says, hinting that the term "might pop up" if Harlots gets a third season.