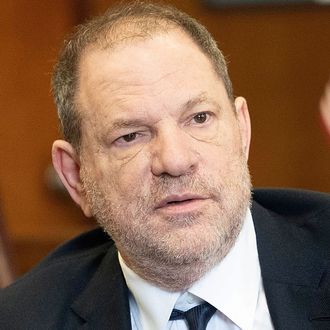 Harvey Weinstein.
Photo: Pool/Getty Images
Actress Emma Loman has filed a lawsuit against disgraced Hollywood producer Harvey Weinstein, alleging he raped her at the Cannes Film Festival in 2006, The Guardian reports.
In a lawsuit filed on Monday in Los Angeles, the German actress states that she first met Weinstein at the Venice Film Festival in 2004 — and he invited her to Cannes to talk about her career. According to the complaint, Loman was initially reluctant to go, but Weinstein's assistant called her up to 30 times a day to convince her to accept his invitation.
Weinstein and Loman had several meetings at Cannes — she states in her lawsuit that she found him to be professional at first — and eventually he invited her up to his hotel room for further discussion. "Upon arriving at Weinstein's suite … Weinstein quickly dropped his professional demeanor. He instead overpowered Loman and raped her," the complaint reads.
The Guardian reports that, in her lawsuit, Loman states that she "stayed silent" about the alleged assault out of fear that she wouldn't be believed or that her career might be damaged. The complaint further states that Loman only felt empowered to come forward following the surge of sexual assault and harassment allegations against Weinstein that sprung up in the fall of 2017 — including several other instances in which actresses accused the former titan of luring them to hotel rooms under the guise of business meetings and subsequently assaulting them. The allegations against Weinstein reignited the #MeToo movement — which has since spread to other industries.
Loman is suing for assault, violation of human trafficking laws, battery and false imprisonment. Weinstein is currently on trial in New York federal court on rape charges.