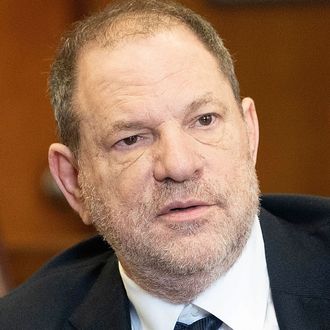 Harvey Weinstein
Photo: Pool/Getty Images
Harvey Weinstein's attorneys are preparing a motion to have his case dismissed. According to The Hollywood Reporter, the movie producer's legal team is planning to submit a motion for dismissal on the grounds that prosecutors didn't share allegedly exculpatory emails with the grand jury that returned an indictment. In New York, where Weinstein is currently facing charges of sexually assaulting three women, in some cases prosecutors must share such evidence with a grand jury.
His attorneys first floated the defense Wednesday in Delaware bankruptcy court, where The Weinstein Company filed for bankruptcy in March. The bankruptcy court judge let Weinstein have access to his company emails and personnel files; now, his attorneys say, they have uncovered emails relevant to his sexual-assault case. "The emails are to be attached as exhibits to pre-trial motions — which must be filed in the Supreme Court of New York County no later than August 3, 2018 — seeking a dismissal of the indictment for, among other reasons, the failure of the prosecutor to advise the grand jury of the substance of exculpatory communications made by the one of three complaining witnesses underlying the counts of the indictment and contained in the e-mails sought for use here," Weinstein's latest bankruptcy court filing reads. The emails are currently confidential under a protective order.
Harvey Weinstein has pleaded not guilty on all counts, and continues to deny any allegations of sexual assault. He's next scheduled to appear in court on September 20.