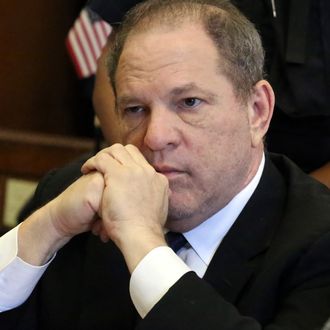 Photo: Jefferson Siegel/Getty Images
Last year, legal council for model-actress Kadian Noble filed a complaint at the U.S. District Court in the Southern District of New York, which alleged Harvey Weinstein violated a federal sex-trafficking law by sexually assaulting Noble in his hotel room in Cannes, France. "Harvey Weinstein was able to force or coerce Kadian into sexual activity in his hotel room because of his promise to her of a film role and use of his influence on her behalf," the complaint read, with Noble claiming he groped her and forced her to help him masturbate when she visited the city in 2014. Now, per Variety, the case is officially proceeding after being in legal limbo for a few months, with Judge Robert W. Sweet declining to dismiss the lawsuit by means of plausibility.
"For an aspiring actress, meeting a world-renowned film producer carries value, in and of itself. The opportunity, moreover, for the actress to sit down with that producer in a private meeting to review her film reel and discuss a promised film role carries value that is career-making and life-changing," he wrote in his ruling memo. "The contention, therefore, that Noble was given nothing of value — that the expectation of a film role, a modeling meeting, of 'his people' being 'in touch with her' had no value — does not reflect modern reality." However, Sweet dismissed the claims lodged by Noble against Bob Weinstein, who Noble alleged had a hand in facilitating "commercial sex acts in foreign commerce" for his brother. As Variety notes, Weinstein's lawyers tried to have this lawsuit dismissed to no avail.