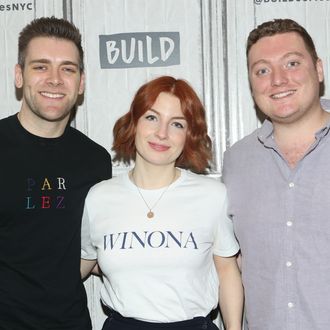 James Cooper, Alice Levine, and Jamie Morton discuss "My Dad Wrote a Porno" in March 2018 in New York City.
Photo: Steve Zak Photography/WireImage
Jamie Morton's dad is a retired builder from Northern Ireland, and that's where the normality ends. Morton discovered his dad's garden shed hobby was writing erotic fiction under the pen name Rocky Flintstone, and in 2015, he began a podcast called My Dad Wrote a Porno where he and his friends James Cooper and Alice Levine read excerpts of Rocky's work with commentary. The works are described as being similar to 50 Shades of Grey, except they follow a heroine named Belinda Blumenthal through a series of sexual adventures known as the Belinda Blinked saga.
The podcast has taken off and welcomed guests like Elijah Wood, Michael Sheen, and Daisy Ridley. Now, HBO has announced that My Dad Wrote a Porno will be coming to TV next year as a comedy special. At the Edinburgh International Television Festival last week, Deadline reported that Cooper hinted that a U.S. television project in the works. "We're doing something for TV in the U.S.," Cooper said, adding that both musical and animated versions had been considered. If you think trying to explain that your favorite podcast is about someone else's dad's erotic stories, just imagine trying to explain that it's also your favorite cartoon.
An earlier version of this post incorrectly stated that James Cooper's dad wrote a porno. In fact, Jamie Morton's dad is the porno-writing dad.