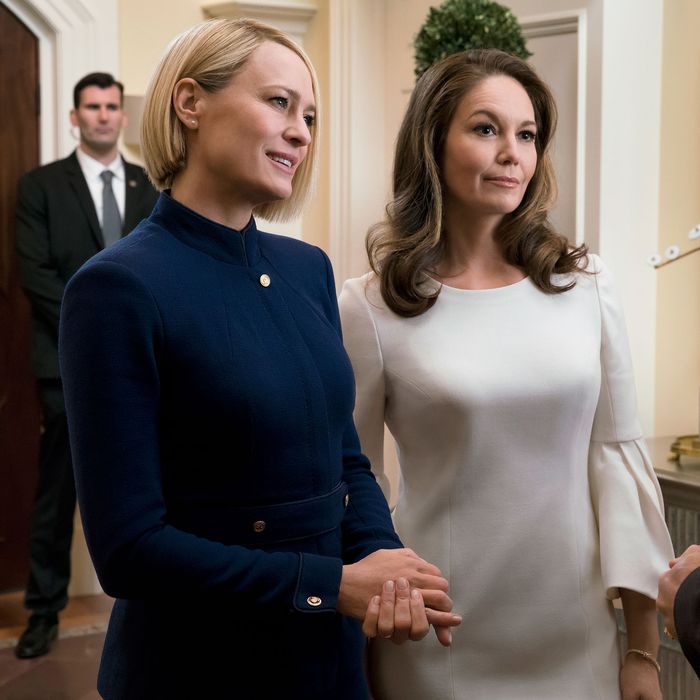 Photo: David Giesbrecht/Netflix
Kevin Spacey's out, and Diane Lane and Greg Kinnear are in. As previously announced, they've joined the sixth and final season of House of Cards, and today we have a first look at their characters. Meet Annette and Bill Shepard, brother and sister inheritors of Shepard Unlimited, which is described as a "leading industrial conglomerate, " which is to say they are rich, powerful, and almost certainly up to no good. According to Netflix, they're a "powerful behind-the-scenes force in the American political landscape [who] share a vision for the future of America, as well as a complicated past with the Underwoods." But, truly, who didn't have a complicated past with Frank Underwood (Spacey, who's been written out of this season) and his wife, Claire (Robin Wright), now president?
From the looks of it, they'll be meddling (er, "fundraising" for the Red Cross) right alongside Claire.
It also appears Kinnear's character might have something to do with Frank Underwood's old Sentinel days, judging by the way Claire's glaring at him while holding Frank's class ring.
Also joining the cast is Cody Fern (from the Ryan Murphy-verse), who'll play Lane's "ambitious and devoted son, who represents the next generation of DC power players." Which all sounds suspiciously like the log line for a spinoff.