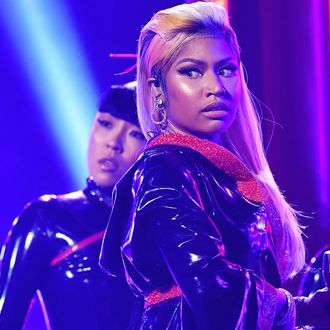 Here we go again.
Photo: Paras Griffin/VMN18/Getty Images for BET
To hell with release dates! After moving her album's arrival all over the summer calendar, it appears Nicki Minaj has finally settled on a time and place … today. Minaj launched her Beats 1 radio show on Apple Music last night and announced she had finished her fourth album Queen just three hours prior to the show. She also announced that though it was meant to come out on its new date of August 17 — after she delayed it again to clear a Tracy Chapman sample — she wanted to play it last night on the air. The problem? Her management had to inform her it wasn't ready, for legal issues, prompting Minaj to pitch a fit ("it's a lot of corporate drama in here").
After some on-air back and forth with her team and threats to leak it, she officially announced that Queen will air in full on Beats 1 radio today at 9 a.m. PT/12 p.m. ET, and she will return to the show with Zane Lowe at that time to break it down track-by-track. (Note that while Apple Music requires a subscription, Beats 1 radio is free to stream.) Minaj also shared the album's 19-song track list — which leaked while she was still on air — featuring Eminem, the Weeknd, Foxy Brown, Future, and Swae Lee. It also includes previous singles "Chun-Li," "Bed" featuring Ariana Grande, and "Rich Sex" featuring Lil Wayne. ("Barbie Tingz" appears to have been axed.) Are you having fun yet?!