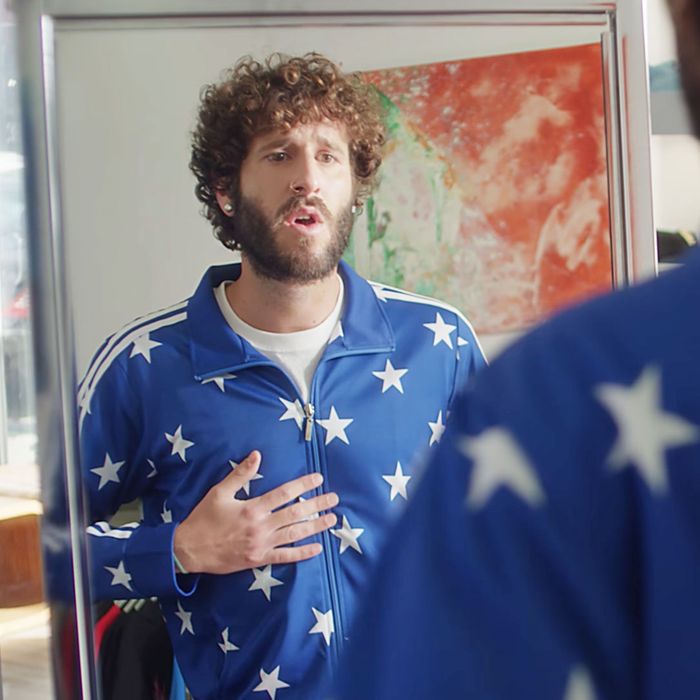 Photo: YouTube/ Lil Dicky
Quick: Name a defining musical trend that has dominated pop music this year — a sound, whether it be a genre-flipping style or a musical wrinkle as small as someone coughing distinctively on a beat — that listeners can easily identify as taking over the charts, airwaves, and general pop consciousness. Think along the lines of Jack Antonoff's '80s-flecked omnipresence last year, DJ Mustard dominating West Coast groove in 2014, the "real music" revival of Mumford & Sons, the Lumineers, and Philip Phillips circa 2012, or the two-year EDM boom from 2010–2011 that triggered said "real music" revival to begin with.
Stumped? It's not just you. 2018 has been the rare year in which pop has largely proved resistant to such monoculturally dominating trends. If you squint hard enough, you can pick out a few unlikely coincidences that nonetheless don't offer any indication of where the wind is blowing. Both Tyga's improbably solid "Taste" and DJ Khaled's latest collab-packed single "No Brainer" apply a moderately appealing cut-up vocal sample style to their melodic framework, while Drake's "In My Feelings" and "Nice for What" represent the latest iteration of New Orleans bounce inching toward the mainstream.
Otherwise, though, pop in 2018 has felt stateless and random — that is, when the landscape hasn't been suffocated by Drake and the baffling blockbuster sounds of Post Malone, both of whom exert such a cultural stranglehold that they'd have to disappear for a whole year to allow other sounds to become dominant. Some of the year's biggest singles (Ella Mai's indelible "Boo'd Up," the effervescent rallying cry of Dua Lipa's "New Rules," Camila Cabello's smash "Havana") are technically holdovers from last year — and speaking of 2017, despite the chart-topping success of Cardi B's Bad Bunny and J Balvin collab "I Like It," the promise of an increase in Latin-pop prominence from last year's Luis Fonsi megasmash "Despacito" has yet to fully bear fruit.
Releases from heavy-hitters like Justin Timberlake, Kanye West, and Beyoncé and Jay-Z's team-up as the Carters provided some gristle to chew on for a week or so, but failed to introduce any new sonic tics or up-and-coming producers that others could conceivably draw from for inspiration. EDM's presence in pop music has basically vanished, most of the genre's biggest faces having moved on to behind-the-scenes pop production, the newly neon confines of rap, or varying strains of MOR-pop; somewhat fittingly, one of the year's most talked-about songs — Childish Gambino's bold, statement-making "This Is America" —owes most of its success to an impeccable visual treatment, thanks to frequent collaborator Atlanta director Hiro Murai.
There is perhaps no greater indication of the "why not?" direction of pop in 2018 than rapper-slash-"comedian" Lil Dicky's Chris Brown collaboration "Freaky Friday," which peaked at No. 8 on the Billboard Hot 100 earlier this year and has since been awarded platinum status. For the uninitiated, Lil Dicky's "thing" typically resembles what would happen if a white Barstool Sports employee attempted to spit a hot 16 moments before he accidentally lets a stray N-word slip — which, coincidentally, is exactly what "Freaky Friday" is about: Dicky accidentally swaps bodies with Chris Brown, and is quite possibly one of the only people in the world who is excited about the prospect. Why, you might ask? "Wait, can I really say the N-word?" Dicky, inhabiting the body of Brown ebulliently asks, over a DJ Mustard beat so dated that it's still looking forward to the second season of True Detective.
What follows is a barrage of jokes about FaceTiming Kanye, having a small dick, being "light-skinned black," and most odiously, Brown's "controversial past," which you are surely well aware of by now. Then, a twist — Dicky becomes Ed Sheeran, DJ Khaled, and Kendall Jenner. To recap: A song featuring a white joke-rapper and a singer with a history of domestic abuse produced by a producer who peaked several years ago, centered around stale celebrity jabs and said white joke-rapper's excitement at finally being able to say the N-word, is one of the biggest pop hits of 2018. Besides making one yearn for the earnest, cornball days of Macklemore past, it highlights the broken compass that pop currently uses in vain to find its next True North.
It's so tempting to tie every facet of popular culture to the current and chaotic state that our very way of life has entered, but it's more likely that pop's current stylistic drift can be owed to a variety of factors, including the perpetually on shuffle playlist-ification of streaming culture and a relative lack of innovation from pop superstars' latest missives. The winds have scattered everything in the monoculture just enough that it feels like there's no real way to isolate a specific method behind mainstream pop's all-over-the-place madness — so it makes a lot of sense that, amid so much noise, the only real constant in 2018 pop has been the sound of nothing at all.
Employing negative space as an instrument in itself is not a 2018-specific trend: We've been leading up to this for practically the entire decade, from James Blake's early vacuum-sealed production experiments to the gasps of air that punctuate the fizziest material of the pop troublemakers in the PC Music collective. More recent analogues include the Chainsmokers' antiseptic inside-out EDM (itself explicitly indebted to Blake's work), Post Malone's "White Iverson," and the work of late rapper XXXTentacion, specifically songs like "Jocelyn Flores" and this year's chart-topping "Sad!" (A brief aside: Despite the severity of XXX's alleged crimes being undeniably heinous and impossible not to condemn, it's totally possible that we'll be talking about his growing influence in pop this time next year — it's practically already happening.)
The Weeknd returned in the first quarter of this year with My Dear Melancholy, a project that ditched the resplendent pop of 2016's Starboy for miles of empty space and desolation; Zedd's excellent singles "The Middle" and "Stay" pack their strongest punches in what's not happening around their strong vocal performances and deliriously sweet synth stabs; and the tiptoe-rap of Valee's "Juice & Gin" has already born influence in the form of 6ix9ine's odious team-up with Nicki Minaj, "Fefe." Even Charli XCX, the brightest pop star with a flair for all-in-it maximalism that's not currently charting, wields pockets of silence like a switchblade. Though her recently released "No Angel" is a lush synth jam reminiscent of the Knife before they got really weird, its A-side "Focus" is all blank space surrounding water-droplet trance motifs.
Post Malone's vacuous nü metal–R&B looms largest here — not only dominating the airwaves but influencing everything around them, too. Just look to Lil Xan's Charli XCX collaboration "Moonlight," in which he claims to be "on my Post Malone shit" over barely there guitar and a smattering of bass stabs. "Fuck it, let's just see what happens," he croaks at another point, and I can't think of a more apt sentiment to apply to this no-rules, no-masters environment that modern pop currently reflects. We haven't so much arrived at a dead end — think of it as being stalled at a four-way intersection dotted with stop signs and clogged with indecisive drivers. No one's sure if they want to make the next move — and given who's currently at the wheel, do we even want them to move at all?