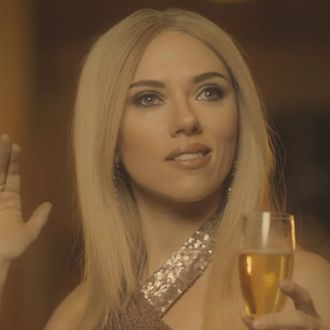 Scarlett Johansson.
Photo: NBC/Saturday Night Live
If you have a healthy sense of humor, perhaps seeing yourself as the object of a pretty scathing SNL sketch would be a weird honor, even if that sketch in question paints you as an anti-feminist who's wholly complicit in the ongoing destruction of our nation. Too bad Ivanka Trump doesn't feel that way. Even if she was played by a wigged-up Scarlett Johansson! In Omarosa Manigault Newman's new memoir Unhinged, Omarosa writes that the First Daughter was apparently put into a tizzy by SNL's "Complicit" perfume sketch that aired last year, so much so she could barely stop talking about it in subsequent days. (Remember, it's the scent for women who could stop all of this, but won't!)
"At the senior staff meeting, Ivanka couldn't stop bemoaning it, how offensive it was, how ridiculous it was," Omarosa wrote, according to an excerpt in People. "We'd all been subject to SNL attacks … We'd all been hit, many of us in that same week's show. But Ivanka would not stop talking about being ribbed. Like her father, Ivanka was thin-skinned and could not seem to take a joke." Trump would later go on to address the sketch in an CBS Sunday Morning interview, opining: "If being complicit is wanting to be a force for good and to make a positive impact, then I'm complicit."
Sure, Jan.