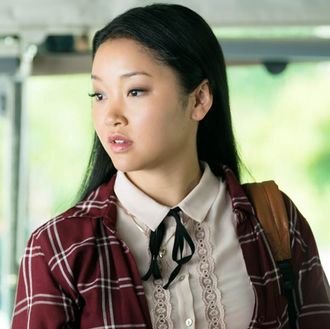 Lana Condor in
To All the Boys I've Loved Before
.
Photo: Awesomeness Films
It was important to Jenny Han, author of the YA books To All the Boys I've Loved Before, that the film adaption would keep one key detail: that the lead character, Lara Jean, was Asian-American. In a new essay for the New York Times about the movie, rom-coms, and representation, Han revealed that nearly every production company interested adapting her best-selling book into a movie asked to whitewash it. "I ended up deciding to work with the only production company that agreed the main character would be played by an Asian actress," Han wrote. "No one else was willing to do it. Still, I was holding my breath all the way up until shooting began because I was scared they would change their minds. They didn't." Lana Condor, who is Vietnamese-American, starred in the adaptation, produced by Awesomeness Films and Overbrook Entertainment, and released on Netflix.
Han's apprehension isn't entirely surprising, given novelist Kevin Kwan's experience with another big Asian-American narrative opening this summer, Crazy Rich Asians. A producer asked Kwan if the lead role — an Asian-American woman who meets her husband's family in Singapore — could be played by a white woman. (Constance Wu plays the role in the film.) Hollywood — not great, Bob!