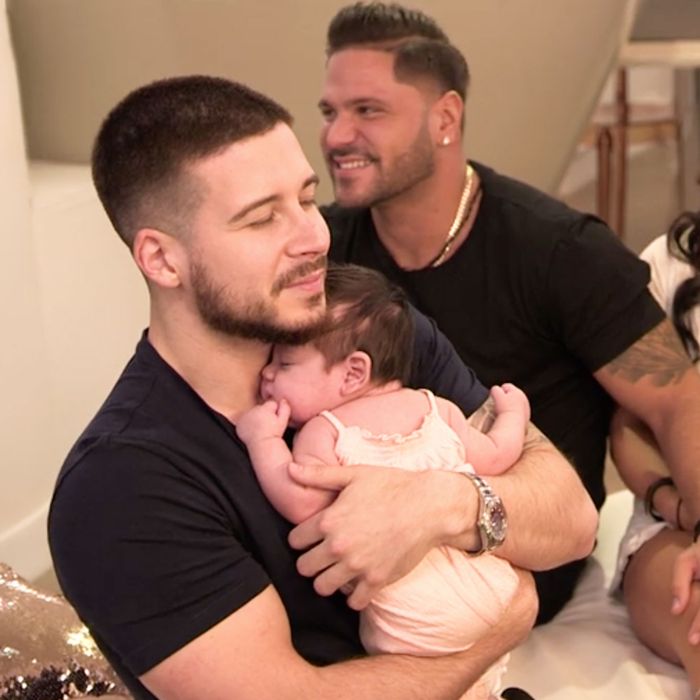 Summer may be fading, here in reality as we know it (Northern Hemisphere reality, anyway), but on the eternal drunken pleasure-dome that is Jersey Shore Family Vacation, it's only just beginning. Look, this season is off to a dark start, but you know what they say: It's always darkest before, shit, it gets even darker?
That said, there is a lot to be happy about in the greater Jersey Shore metropolitan area. Deena, excitingly, is pregnant! "Your vagina is, like, this small and then [holding hands significantly wider than her head] it opens to this big. And then you could rip to your butthole," advises Nicole, her future doula. Nicole has made friends with Angelina, not only unblocking her on social media, but even sharing two halves of the figurative BFF heart necklace that is getting your boobs done by the same doctor. Mike and his fiancée Lauren have dreams of planning a wedding in Italy, though they're well aware they may be stuck Stateside because of travel restrictions in his ongoing tax evasion case.
Single Vinny rides again, to Single Pauly's unadulterated delight. Jenni's two-year-old Greyson isn't talking yet, so he's started seeing a therapist. His speech delay is clearly weighing heavily on her mind — and so is something else, something the roomies are responsible for, which we'll get into later.
And Ronnie is now father to a daughter, the adorable Ariana. His girlfriend Jen went into labor while he was on a flight to London, but he managed to get through customs, buy a new ticket, and make it onto a plane back to Las Vegas in time to be there for the birth. (I also feel it is important you know that their baby shower involved both candy bars in wrappers printed with a photo of Ronnie kissing Jen's belly — sadly, not that picture — and a "Gym, Tan, Baby!" chalkboard sign.) He loves being a dad.
Proud D.J./Uncle Pauly D., taken with Vegas's newest little peanut resident and her little peanut hands, invites the whole gang out to visit and meet her. (Unfortunately, but understandably, Deena and her meatball in utero are hanging back in Jersey.)
Pauly knows better than to let these insane people trash his house, so they'll stay in a massive suite at Planet Hollywood, featuring a stripper pole in the shower, which is itself somehow in the living room, a true innovation in both stripper pole and shower technology. There are also chocolate-covered strawberries, which is the most exciting feature of the room to Mike when he and Vinny arrive a day before Jenni and Nicole for a Vegas boys' night.
They have no idea what to expect from Ronnie, and neither do I. His frequently very ugly relationship drama with Jen has been all over Instagram, with the receipts shared by the couple themselves. Trying to keep up with whether they're together or not feels like tracking a tropical storm that turns into a few stray clouds that turns into a Category 5 hurricane, over and over again.
Ronnie tells MVP that he and Jen have problems, of course, but they're working it out, and that these "bad decisions" won't happen again. And yet the boys recall that just two days earlier, he'd posted on social media that he was single. Ron even refuses to go to a strip club, leaving his pals all the more convinced that the poet who once said, "Let's get filthy, creepy, and weird," has been replaced by a squeaky-clean pod person. They're not buying the everything's-fine story that he's selling about his relationship.
Jenni and Nicole, arms laden with pink-wrapped gifts for the baby (one of which proves to be a "Meatball in Training" onesie, and all of which are repeatedly dropped), make their entrance by strutting down the hotel hallway and tipsily singing, "Vegas! Moms are here!" It's great to see the roomies reunited, but it's possible that a little bit too much of a reunion could be in store soon. Nicole admits she invited Angelina to come to Vegas. Jenni is not thrilled to hear this, given that the artist formerly known as the Kim Kardashian of Staten Island recently posted a photo of a mug reading "Jersey Whore" to Instagram and tagged Jenni in it. (Yes, really.)
Jen, who's about to take Ariana out of town for a family wedding, stops by the hotel suite so everyone can meet the baby. She's snoozing peacefully, a miniature version of her dad dressed all in pink. This is Mike's first time holding a baby, and he's plainly terrified; Nicole gets teary when her turn comes. "That's it, I'm having a baby," Vinny says as Ariana snuggles a chubby cheek into his neck. It's a very sweet scene.
Everyone praises Ron's behavior to Jen, who pats him on the back, literally. But privately, to Jenni, she strikes a very different tone. (The man did cheat on her, while she was pregnant, on national television.) "I gave him way too much leniency last time. Way too much," Jen says. Jenni asks her if she's keeping him on a short leash. "Give him enough rope to hang himself," Jen replies, and in related news I am now terrified of Jen.
As she confides in Nicole, Jenni secretly reached out to Jen amid the couple's social media shitstorm, and she's sure Ron would be pissed if he knew they had been in communication. "She told me about, like, really, really low points," Jenni says, not eager to get her hair pulled out by another one of Ron's paramours. (Speaking of which, there's been no sign yet of the Sammequin this season, though I'd hate to think I just jinxed us.)
Let's get back to what was bothering Jenni: Her husband Roger asked her friends to send in 30-second clips of themselves for him to compile into a Mother's Day surprise video, but of the Jersey Shore crew, only Mike participated. She's upset about their radio silence, and especially that not even her bestie Nicole completed Roger's request.
I, for the record, love this fight: If I were Jenni, I'd be very upset by my friends' apparent lack of devotion. And if I were anyone else at that table (except St. Mike), I probably would have dropped the ball on the video too, because as much as I might love my friend, I am deeply lazy and forgetful about responding to texts. When the subject comes up at dinner, everyone apologizes, but she's more hurt than they seem to realize. "On the real, I cried," Jenni says to Nicole. In fact, she thought about not coming to Vegas, to the disbelief of the group.
By now on her fifth shot, Jenni enters DGAF mode. She tells Ron about her conversations with Jen, triggering his trademark nervous leg tremor. But before any serious relationship damage can be done, she proceeds to doze off in a car, in a nightclub, in an elevator, and again in another car. Good night, sweet princess.
At the club, Ron is on his pod-person best behavior, refusing to even set foot outside the gang's, yes, VIP cabana, but Vinny and Pauly nevertheless manage to find temporary love with two beautiful Canadians. "Canadian girls are just always DTF," Vinny explains, his eyes full of light, like a child's on Christmas morning. "They think like men. Women one-night stand men in Canada, it's not even like a bad thing." This stereotype is new to me, as is the use of one-night stand as a transitive verb. (Not sold on the former, but definitely here for the latter.)
And now, a one-act play, presented without comment:
CANADIAN WOMAN: We're gonna be right for each other.
VINNY: Let's be epic later.
CANADIAN WOMAN: We're gonna be epic. You're so epic.
VINNY: You're epic. You're hot.
CANADIAN WOMAN: You're hot.
Of course, everyone sleeps together, and it's just like old times! Pauly and Vinny slide under the covers with their respective new friends in their beds in the same room, though (correct me if I'm wrong) I think most of the sex depicted on the original Jersey Shore wasn't accompanied by a montage of a waving Canadian flag, geese taking flight, and Mounties on parade.
The next morning, Ron learns that Jen's flight has been delayed — she wants to come out with them that night. Rather than being happy to hear that he can spend more time with his girlfriend, he reacts as if he's just gotten a phone call about alarming test results from his doctor. "She plays this nice, sweet girl role, but she's gonna come in and try to start some kind of trouble," he says in a confessional.
The gang is off to a pool party, which is really a daytime outdoor bathing-suit club. Mike finds a giant panda head (headdress? mask? helmet? helm-mask?), puts it on, and dances around, the only possible course of action that can ensue after finding a giant panda head.
Ron is quiet and behaving in a very obviously strange way, but he seems to think he's succeeded in hiding his internal strife from his friends. To be clear, he has utterly failed at this. (Also, some all-purpose advice: Don't hide your internal strife from your friends!) "I haven't been straightforward with my roommates. Me and Jen fight all the time and there's nothing stable," he says in an interview. Ron, you need to drain this emotional abscess before it bursts.
His phone vibrates with a message from Jen: "She's mad about something," he says, and begins downing shots. As the Countess said to Dorinda, he's started turning. Ron's foul mood nearly results in a fight with some shit-talking idiot who says "OG Ronnie in the house" in the men's room, until security intervenes. I don't know what's actually happening inside this relationship, but I do know that it is toxic, and also that Ronnie should be in therapy.
Back at the hotel, the roommates still don't know exactly what Ronnie — who is crying, by this point — and Jen are fighting about, only that something is very wrong. "I'm scared of losing my fucking daughter," he explains, finally. She's previously kept the baby from him for five or six days at a time as a punitive measure, which sounds awful.
The roommates are all fiercely on Ron's side, but that doesn't stop Jenni from scolding him for his regrettable social-media posts. "You want my honest opinion, leave her and fight for your daughter," Jenni says. This makes Ronnie very, very angry, igniting a full-on screaming match that concludes with Jenni shouting, un-take-back-ably, "You got a crazy bitch pregnant!"
I'm sure Jen will take that well.