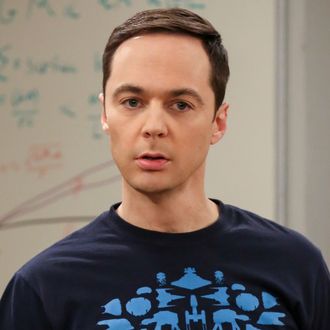 Jim Parsons.
Photo: Michael Yarish
Sheldon Cooper will don his last graphic T-shirt and make his final "Soft Kitty" request next May, as CBS's crown jewel of comedy — or rather, America's crown jewel of comedy — The Big Bang Theory will be ending after 12 seasons of astronomical ratings, whatever your personal feelings on the show might be. (To think that after 12 years, the cast still couldn't figure out how to fake-eat well enough without us noticing.) The decision to end the sitcom apparently came after Jim Parsons, who plays Sheldon, flat-out told CBS executives that he wouldn't be sticking around if the show got renewed for a 13th season, which has now led Parsons to pen a note of appreciation to the TBBT's cast and crew on Instagram. His thoughtful message about his $$$$ experience is on the longer side, but let's just say it's not short on gratitude.
"Something else I feel grateful for — and this gratitude needs no time to 'sink in' or become more 'realized'; this grateful-feeling is always with me but is multiplied in this moment of us announcing our final season — but I feel such intense gratitude for our devoted viewers who are the actual reason we have been graced with the opportunity to explore these characters for 12 years of our lives," he wrote. "I feel grateful to our crew — many, many of those who have been with us since day one — and who are the people who bring a sense of steadiness and dependability, who are so warm and kind and always quick to say hello and smile at us every time we come to the set and who, even though you don't see them on TV, are in many ways the real and steady heartbeat that keeps this body of work alive and breathing while we, like flailing arms and legs, act like jackasses and fools in attempt to make someone laugh.




I am grateful to all the writers of our show – those with us now and those that have come and gone, because without them, there would literally be no Big Bang Theory at all, ever."
Yet, the use of "bazinga" was noticeably absent. TBBT will premiere, as normal, on CBS next month.