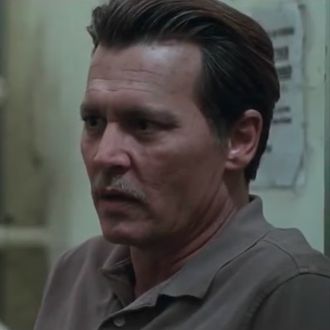 Johnny Depp.
Photo: Global Road Entertainment
If we as a society are ever going to find out a conclusive answer to the question "Who shot Biggie Smalls?," it's starting to look like Johnny Depp won't be the source of that long-sought-after information. The actor's true-crime drama City of Lies, in which he stars as LAPD detective Russell Poole haunted by the rapper's unsolved murder, has been pulled from its scheduled release date of September 7 by Global Road Entertainment.
While there is currently no indication the incident is connected to the delay, an altercation on the film's set has since lead to a lawsuit against Depp. According to City of Lies location manager Gregg "Rocky" Brooks, Depp allegedly "punched him in the torso" when he attempted to inform the actor filming was running over the production's approved on-location hours. Depp then allegedly demanded of Brooks, "I will give you $100,000 to punch me in the face right now!" before security intervened. The film's theater premiere date has yet to be rescheduled, but if you want to watch the City of Lies trailer, you're gonna find a lot to tide you over.