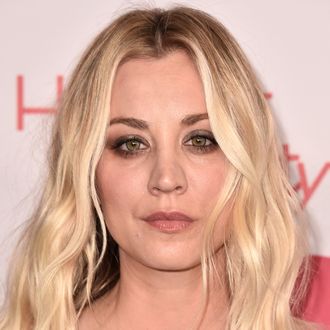 Kaley Cuoco.
Photo: Alberto E. Rodriguez/Getty Images
Maybe, just maybe, after 12 seasons, we'll finally find out Penny's last name. (Our money's on "Smith"!) With The Big Bang Theory officially set to bow out on CBS in May after a remarkable 279 episodes, one of the show's "big three," Kaley Cuoco, has penned a note on Instagram showing equal parts shock and gratitude that the end is near. "This ride has been a dream come true and as life changing as it gets. No matter when it was going to end, my heart would have always been broken in two," she wrote. "Drowning in tears, we promise to bring you the best season yet. To the fans, our crew, families, Chuck Lorre, Warner Brothers, CBS, and everyone who has supported us for so many years, thank you. We are going out with a bang." Cuoco's character, Penny, has settled into domestic bliss with Leonard (Johnny Galecki) at this point, and, since we're in a gambling mood, we'd be willing to bet Penny becomes pregnant sometime this season. That, or the two get divorced and fake-eat in peace. Equally good options!
Fellow lead Jim Parsons, who plays Sheldon, also wrote a thoughtful Instagram message to mark the end of an era. "Something else I feel grateful for — and this gratitude needs no time to 'sink in' or become more 'realized'; this grateful-feeling is always with me but is multiplied in this moment of us announcing our final season — but I feel such intense gratitude for our devoted viewers who are the actual reason," he wrote, "we have been graced with the opportunity to explore these characters for 12 years of our lives." Let the race to find its sitcom replacement begin. You up, Modern Family?