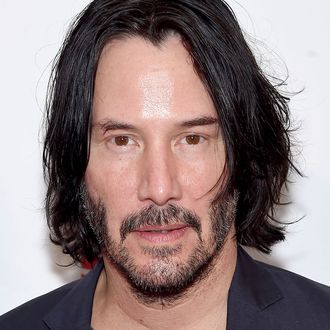 Photo: Jamie McCarthy/Getty Images
If you're like us (God help you), you read that headline, sat up and excitedly screamed, "WHAAAAA?" before realizing Keanu Reeves is, in fact, publishing a new imprint of "esoteric" books, not erotic books like you had thought and, let's be honest, hoped. Not that there is anything wrong with esoteric! "Esoteric" is the word used in the loving New York Times' T Magazine profile of the actor's new imprint X Artists' Books and, boy, does it seem fitting.
Among the rarer and more arcane tomes published by Reeves and his business partner, artist Alexandra Grant, is the recently released "(Zus)," a visual essay by French photographer Benoît Fougeirol that is apparently "structured around the 11 'Zones urbaines sensibles' of Paris's banlieues that presents the Brutalist peripheries as a failure of both the state and imagination." Look, Keanu's imprint might very well be publishing something erotic at some point in the future. We just can't rule that out. And if they do, you know we'll be the first in line.