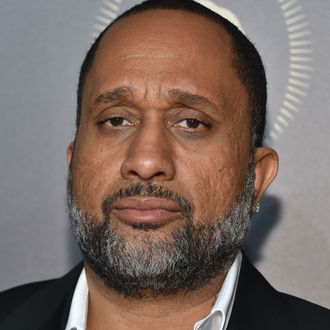 Kenya Barris.
Photo: Mike Coppola/Getty Images for Peabody Awards
Just like zombies and apocalypses, witches have slowly become evergreen television fodder. Black-ish creator Kenya Barris is hoping so at least, now that he's developing a Bewitched reboot pilot, co-written by Black-ish writer and producer Yamara Taylor, for ABC. According to The Hollywood Reporter, the network has already given the show a pilot production commitment. The remake, updated from the 1960s sitcom starring Elizabeth Montgomery and Dicks York and Sargent, finds African-American single mother and secret witch Samantha getting married to mere mortal Darrin.
THR reports that the couple "will navigate their differences as Samantha discovers that even though she's literally magic, she's still not as powerful as a decently tall white man with a full head of hair in America." The project will reportedly be Barris's last for ABC before he magically transports himself over to Netflix. The only downside of Bewitched being an ABC show? No Samantha/Sabrina crossover potential.