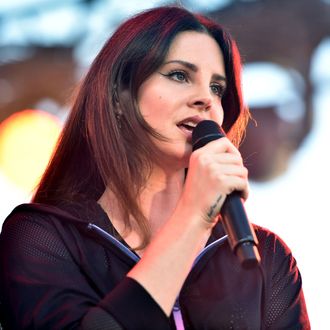 Lana Del Rey.
Photo: Alberto E. Rodriguez/Getty Images for CBS Radio Inc.
After news broke that Lana Del Rey would headline Israel's first-ever Meteor Festival, the singer took to Twitter to defend her decision to play the event alongside musicians like A$AP Ferg, Pusha T, and Of Montreal. "We signed onto the show w the intention that it would be performed for the kids there and my plan was for it to be done with a loving energy w a thematic emphasis on peace," she says in a statement tweeted Sunday. "If you don't agree with it I get it. I see both sides."
Human-rights advocates have called for performers to boycott playing in Israel as a way to protest its government's treatment of Palestinians, a call many musicians and artists have heeded as of late. Earlier this year, for example, Lorde declined to travel to Tel Aviv to play a concert, and Natalie Portman declined to go receive the nation's prestigious Genesis Prize.
The way the Lust for Life singer sees it, however, an internationally touring artist can hardly avoid performing in countries with policies he or she deeply disagrees with. One of those countries, Del Rey points out, would be the United States of America, the same argument made last year by Thom Yorke when Radiohead visited Israel.
"I would like to remind you that performing in Tel Aviv is not a political statement or a commitment to the politics there just as singing here in California doesn't mean my views are in alignment w my current governments opinions or sometimes inhuman activities," she explains, adding, "I'm not in anyway likening the gravity of certain travesties that have occurred in Israel to the current hardships we're facing here." Concludes Del Rey's statement, "For the record I'm doing the best I can and my intentions are better than most peoples that I know."
While the singer mentions Tel Aviv in her statement, the Meteor Festival actually takes place at Kibbutz Lehavot HaBashan, which is in the Upper Galilee region of northern Israel. You can read her full statement below.
Update, August 21: Lana Del Rey has written yet another note doubling down on her decision to perform in Israel, saying it does not preclude the fact that her "views on democracy and oppression are aligned with mostly liberal views." She does say, however, that in addition to Israel, she will also now be extending her trip to Palestine to visit and perform for children in both regions. That visit, she says, is in response to Roger Waters's call for action. "I want peace for both Israel and Palestine," she writes.