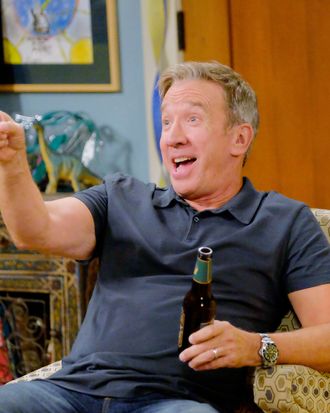 Tim Allen in
Last Man Standing
.
Photo: Tony Rivetti/ABC via Getty Images
When Tim Allen's ABC comedy Last Man Standing was revived at Fox earlier this year, conservatives cheered the opportunity for their voices to be heard through Allen's own right-wing views. But is Allen's character actually a Donald Trump supporter? Last Man Standing showrunner Kevin Abbott told TCA audiences on Thursday that he doesn't think the show will take a stand on the matter. "I think the [character's] a conservative Republican with those ideals. But, the character itself, I don't think we'll address upon one way or another," Abbott said.
That sentiment was echoed by Fox chairman and CEO Gary Newman earlier in the day. He told journalists, "The producers' plans are simply not to address whether or not he might be a Trump supporter" although "that could change during the season."
Meanwhile, the Last Man Standing crew addressed comparisons drawn by fans and foes alike between their show and Roseanne. As much as they'd love to have the ratings that Roseanne had in its revival's premiere, Abbott said, "We don't do issues of the week." For his part, Allen added that he doesn't believe ABC's decision to cancel Last Man Standing in 2017 was politically motivated.
Still, don't expect Last Man Standing 2.0 to be exactly the same. For one, actress Molly Ephraim — who played middle daughter Mandy — has left the series and is now busy with other projects. But is there anyone Allen would like to see join the show? He told the TCA audience that his Toy Story co-star, Tom Hanks, has an open invitation to guest star.