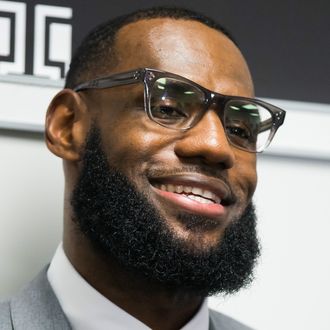 Photo: Allison Farrand/NBAE via Getty Images
Back in February, LeBron James gave an interview to ESPN's Cari Champion in which he discussed race, politics, being a public figure, and his personal criticisms of President Trump. In response, Fox News pundit Laura Ingraham dedicated a segment to chiding James for discussing politics at all while a professional athlete. "It's always unwise to seek political advice from someone who gets paid $100 million a year to bounce a ball," she said. "Keep the political comments to yourselves. … Shut up and dribble." Six months later, that sentiment has been converted into the title of the NBA star's upcoming three-part docuseries Shut Up and Dribble, which James and his production company SpringHill Entertainment will produce for Showtime.
In case that title seems like a mean moniker to give your own show, that's sort of the point. According to Deadline, Shut Up and Dribble is specifically about exploring "the changing role of athletes in our fraught cultural and political environment, through the lens of the NBA." And if the concept of telling someone to shut up and do a specific job that apparently precludes them from having a political opinion is giving you early-2000s Dixie Chicks vibes, that makes sense too. Ingraham published a book way back in 2006 entitled, you guessed it, Shut Up and Sing: How Elites from Hollywood, Politics and the Media Are Subverting America.