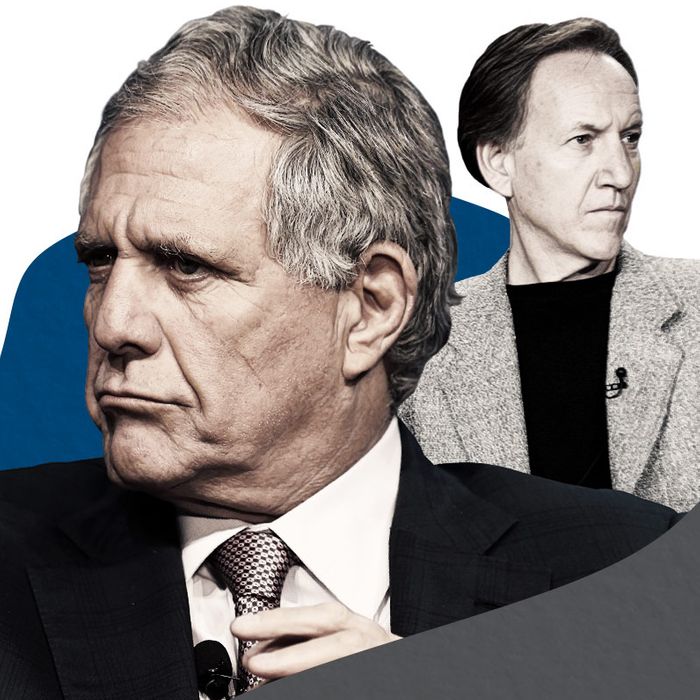 L-R: Les Moonves and Brad Kern
Photo-Illustration: Maya Robinson/Vulture and Photo by Getty Images
Last December, Variety reported that a CBS showrunner repeatedly talked about an actress he hoped to cast mainly because an important executive at the network wanted "to fuck her."
According to multiple witnesses who heard showrunner Brad Kern make that statement a couple of years ago, the executive in the anecdote — the one who wanted the actress cast so he could sleep with her — was CBS CEO Leslie Moonves. In a statement, a representative for CBS said that the network "is not responsible for the things allegedly said by Brad Kern, but there is no substance to the comment whatsoever. Statements such as that will certainly be a subject in the ongoing investigation to Mr. Kern now underway by an independent law firm."
Since December, I have published two major stories on Kern, who ran NCIS: New Orleans, and talked to dozens of individuals who have accused him of creating toxic, sexist, and vindictive work environments — not just at NCIS: New Orleans, where he began working in early 2016, but over a period of more than 20 years, at shows like Human Target and Charmed.
Kern has already survived two HR inquiries into his behavior. CBS chose to sign him to a new two-year deal in the spring. In June, around the time a Hollywood Reporter story on Kern came out, the network retained an outside law firm to conduct a third investigation into multiple allegations that, over the course of his career (and not just at CBS), he engaged in workplace retaliation, sexually harassed those who work for him, and made a string of racially insensitive comments, among other complaints. For the June 15 Hollywood Reporter story, CBS said that Kern would still go to work at NCIS: New Orleans while the investigation was underway (and confirmed a report that he had been demoted from showrunner to consulting producer). However on Thursday, CBS informed Vulture that Kern was actually suspended on June 18 and will remain off the job until the third investigation is concluded.
That Kern allegedly felt free to repeat remarks like the one about the actress tells you a lot about the culture at CBS. "When he was not fired once I told this to HR, and others told this to HR, it seemed to me that Les must be enabling this kind of behavior," one of the witnesses told Vulture. We now know more about the worst aspects of that culture since Ronan Farrow published a New Yorker story about the CEO's alleged harassment, retaliatory actions, and sexual assaults. The piece exposed the complicity and enabling that is widespread not just at CBS, but at CBS News. Farrow's account referred to the Kern situation and also contained disturbing reports of a culture of alleged abuse and harassment under executive producer Jeff Fager at 60 Minutes, one of the former homes of the now-disgraced Charlie Rose. It's hard to escape the conclusion that the house Moonves built is actually a petri dish that has allowed toxic men to flourish.
Of course, there are good people at CBS, and not just those who have been brave enough to act as sources for Farrow, myself, and other reporters. But those people — the 30 or so current and former employees I've talked to extensively in the last year — don't get to make the decisions that matter.
After all, Kern got a new deal to work on the fifth season of NCIS: New Orleans, and though he's no longer the showrunner, he has that very well-paying gig because a number of executives have repeatedly gone to bat for him during the last two-and-a-half years. In recent weeks, a number of sources, men and women who have worked at CBS, reached out to me independently of each other to discuss the investigation being conducted by Kate Gold, a lawyer at the firm Drinker Biddle. (CBS has hired two other law firms — Covington & Burling and Debevoise & Plimpton — to handle the Moonves investigation.) Gold is conducting the third inquiry into Kern, and the people who contacted me to discuss their dealings with her were shocked, disillusioned, and infuriated by what they viewed as her pro-CBS stances and statements.
Three sources said Gold seemed intent on finding out who had talked to the press about Kern, and minimized their concerns, complaints, and experiences.
"Everything she says just repeats CBS management's talking points," an experienced writer who has worked for the network's shows said. Those talking points revolve around two core assertions: that everything has been fine since the second HR investigation ended in February 2017 (despite Kern firing a nursing mother who had gone to HR due to his alleged harassment in March 2017, among other acts of alleged retaliation); and that Kern's demotion to consulting producer was the best possible solution (meanwhile, more than a dozen former NCIS: New Orleans employees I've talked to in the last year — many of them experienced, professionally well-regarded women — say they were vindictively driven away or given unfairly negative evaluations by Kern).
Two additional sources who have worked for Kern said they told Gold that, as she compiled her report, she should refer to the statements they made to HR in 2016 or 2017. They didn't want to have a formal interview with her, they told me, because they didn't trust her agenda, which several sources described as pro-management.
Gold isn't done with her inquiry, but she apparently told one source she planned to wrap it up around the end of July. (A number of sources — some at CBS, others former employees of the network — were not aware of Kern's recent suspension.) In an email, Gold declined to comment on the investigation itself, though she wrote, "I have no agenda other than to be thorough, listen to any and all individuals who are willing to communicate with me, and to learn and report the facts with integrity, and in an unbiased and professional manner."
Asked for comment by Vulture, Kern said, "To my understanding, the current investigation by independent counsel has been undertaken to ensure that prior investigations by CBS were comprehensive and thorough. I am confident they were. Beyond that, it would be inappropriate for me to address specific allegations while an independent review is ongoing."
Of course, no one knows for sure what Gold's report to CBS will say, nor has the company made a final determination in Kern's case. But having talked to many people in the entertainment industry about these kinds of situations, and having undergone an "investigation" myself after I was assaulted by a TV executive in 2014, I think these inquiries can often be unreliable at best, and re-traumatizing at worst. It is possible for them to work as designed: I know of a few cases in which entertainment-industry workers felt their harassment or abuse concerns were taken seriously and that the outcomes of inquiries were acceptable and fair. But all too often, they're farces designed to make workers give up, or to take the heat off of a company for a while. Many of them supply bureaucratic delays that may ensure that reporters lose interest in a story.
NBC took months to absolve its executives of any responsibility for the Matt Lauer fiasco via an "investigation" that, according to contemporaneous news reports, caused a number of NBCUniversal employees to roll their eyes. Foot-dragging diffidence already afflicts CBS as well. As the Washington Post's Amy Brittain tweeted on Monday, "CBS announced a legal investigation into the workplace culture on May 3 after we published additional accounts of harassment by Charlie Rose (including 14 women at CBS News). It's been nearly 3 months, & I have not heard a word about any results of that investigation."
Fager still has a job. Kern, though suspended, still has a job. According to a well-placed source with direct knowledge of the situation, Moonves is defiant, rejects the Farrow story as lies, and is determined to hang on. And he has many supporters inside CBS. It's the culture of CBS top brass to double down and dig in when attacked, and that's what's happening now, according to this source. On Thursday, Moonves led an earnings call in which he conducted business as usual — "The scope of today's call and any questions will be limited to the quarterly results of the company," announced a CBS spokesperson before Moonves spoke — and no one on the call asked about the impact of Farrow's story on the company.
It's not unexpected. A prominent upper-level producer who has worked with Kern and CBS in the past said that "Kern and Moonves aren't going anywhere anytime soon. Out of fear or some twisted sense of loyalty, people — especially women, sadly — stand by these men and their behavior."
We're almost at the one-year anniversary of the first wave of stories about Harvey Weinstein and so many others, but on an institutional level, real progress is not being made. According to many conversations I've had with people in the industry, the wishful belief that the many abuses of power so ingrained in Hollywood culture are going away is a fantasy. Many big TV networks and media companies — not just CBS — appear to be waiting the whole thing out.
If I sound pessimistic, it's because I've been down this road before. I've been covering Hollywood for more than two decades, and for most of that time, not a lot changed on the inclusion front, which I also have written about extensively. Not until there was a decent-sized critical mass of powerful people willing to make real change on an institutional level (in the TV industry, anyway). And that usually only happened after those companies had their dismal representation statistics called out in the press. In some instances, that had to happen repeatedly.
When it comes to the #MeToo revelations of the last year, some individuals within big media firms, on TV staffs, at news organizations, and at Hollywood studios are more aware of the pervasive harassment, assault, and misogyny in their industries. Those personal awakenings are good. But they're not a cure-all, and most entertainment-industry institutions and corporations are still led by the same people who got us into this painful mess. Individual transformation is no substitute for institutional, systemic, sustained change. One is almost meaningless without the other to back it up.
Even if the worst men get fired — or more likely pushed off into the sunset with hefty exit packages — what of the poisonous cultures they created and nurtured? What of the executives — male and female — who learned how to lead and manage from clever, manipulative narcissists? What of the writers and directors and agents and others who came up in an industry ruled by powerful abusers and predators who have clearly gotten away with doing whatever they want for decades? Those inside these powerful institutions have to recognize how radically their companies and cultures have to change if we don't want annual reruns of the Weinstein nightmare, the Lauer horror show, or the ongoing debacles involving Moonves and, yes, Kern.