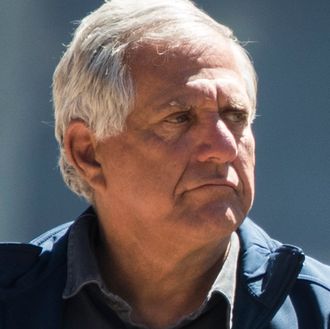 Leslie Moonves.
Photo: Drew Angerer/Getty Images
Last week, CBS CEO Les Moonves was accused of sexual harassment by multiple women in a report published by The New Yorker. Today, he was suspended from the University of Southern California's School of Cinematic Arts' Board of Councilors, and Deadline reports that he will exit the "Commission on Eliminating Sexual Harassment and Advancing Equality in the Workplace." Moonves had been CBS's representative on the Anita Hill–led Commission, and in a letter obtained by Deadline, Hill informed members that Moonves is stepping down and will be replaced by another representative from his company.
In the letter, Hill said the group "supports the decision by the CBS Board of Directors to engage in an independent, impartial third-party investigation into the very serious allegations against Les Moonves published last Friday in the New Yorker." She added, "We believe that a third-party is paramount in ensuring a fair, thorough and transparent resolution. The Council created the Commission as a voluntary body that exists to change the occurrence and the culture that permits or encourages the kinds of behaviors alleged in this article."
Due to statute limitations, the LAPD said it will not be investigating the accusations that have been made so far against Moonves.