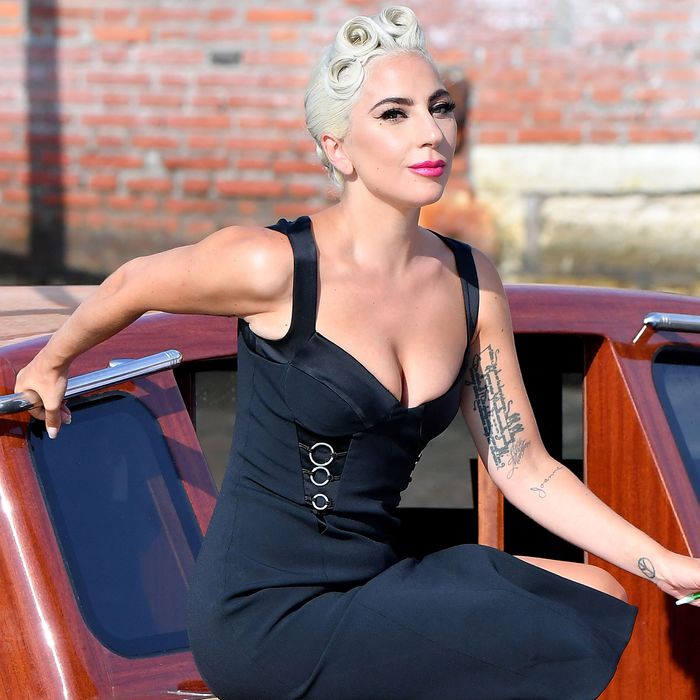 Lady Gaga, and boat.
Photo: Jacopo Raule/GC Images
Bradley Cooper may have wiped Lady Gaga's makeup off with a wipe he mysteriously had on hand when she auditioned for A Star Is Born, but that has not stopped Stefani Joanne Angelina Germanotta from breaking out all the glamour she can muster for the movie's press tour. Gaga has arrived at the Venice Film Festival to promote her and Cooper's cinematic masterpiece (?) and she is already riding off the side of a speedboat in heels and a black dress. Gaze at her beautiful serenity, and imagine the wind dancing off the glistening water and across her coiffure. These images are the photographic equivalent of dissociating from reality on a summer subway platform and imagining yourself somewhere cold.
I no longer pay an electric bill, I only imagine myself sitting next to Lady Gaga on this boat. In this fantasy, all the handsome gondoliers are in passionate-but-not-clingy love with me.
I'm clutching this photo to my face like an ice pack, tricking myself into believing that August is over and fall is here, and I have already seen A Star Is Born.
ohhh-ohhh-ohhh-ohhh-ohhhhh-OOOOOH-ohhhh ohh-ohh-ohhh-ohhhh-OHHHHH, I'M OFF THE DEEP END. WATCH AS I DIVE IN to this body of water in Italy specifically because it looks nice.
Lady Gaga has jetted off into the glittering Venetian lagoon and we are still sitting in our normal lives melting from this heat. Frankly, this is yet another way in which celebrity culture is unfair and harmful.