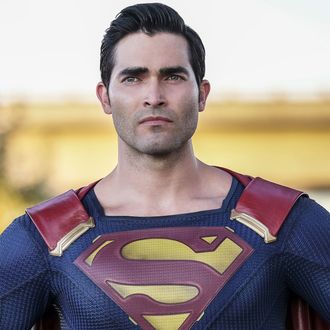 Tyler Hoechlin as Lois Lane's boyfriend.
Photo: Robert Falconer/Robert Falconer/The CW
As we've previously noted, we're currently living in a tale of two Supermen. On the one hand, there's Henry Cavill's version of the Man of Steel, who has failed to really catch fire with audiences (perhaps because Warner Bros. made the mistake of removing that utterly perfect Mission: Impossible mustache). On the other hand, there's Tyler Hoechlin's Supes, who has soared through the CW's Supergirl and garnered largely positive reviews (in no small part because of his bubble-tush). And now, Warner also has the chance to provide an alternative to Amy Adams's Lois Lane in the form of a brand-new Lois in the so-called Arrowverse that Supergirl inhabits along with The Flash, Arrow, and Legends of Tomorrow. According to Entertainment Weekly, the dogged reporter will appear in the next Arrowverse crossover alongside Hoechlin and Ruby Rose, who will be making her debut as Batwoman. It's unclear who will be playing Superman's longtime lady love, but given the Arrowverse's propensity for race-bending, dare we hope for a Lois of color? It's not unprecedented.