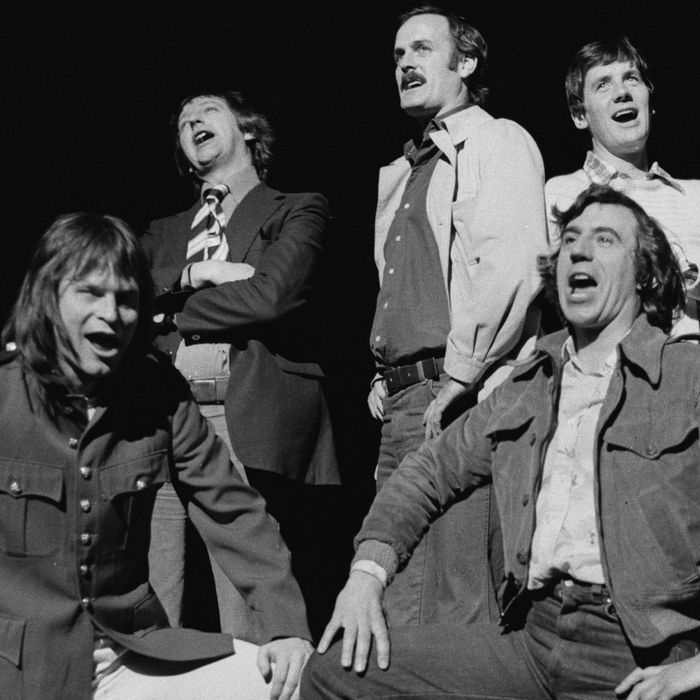 Monty Python performing onstage at the New York City Center in 1976.
Photo: Michael Putland/Getty Images
Last week, the Times of London released several Monty Python sketches that had been buried in Michael Palin's files for decades. These sketches represent some of the last few scraps written by the full Python troupe that could be released. But, of course, there's always a little more out there to find.
Beyond Holy Grail and the TV show, there's a forgotten corner of the Pythons's output on records. This was the medium the troupe found their first success with in America, and they continued recording material exclusively for vinyl through the whole of their time together. In 1980 the Pythons recorded their final record as a group with the appropriately titled Monty Python's Contractual Obligation Album. No one would argue that it's the pinnacle of their output, with Palin himself writing in his diary that after hearing it for the first time, "I'm afraid it does sound rather ordinary … Twenty-five percent padding, fifty percent quite acceptable, twenty-five percent good new Python." But as Palin described to the Times, "We did produce an awful lot of material when we were on song," and so an enormous amount of material was cut from Contractual Obligation to winnow it down to just the best.
Let's jump ahead to 1987. Following 1983's Meaning of Life, their final project together as an ensemble, the six members have all scattered to the wind. Enter record producer André Jacquemin. Jacquemin had worked with the group on several records, and after taking bits from a handful of different Python recording sessions that hadn't made the cut, he compiled a brand-new album titled The Hastily Cobbled Together for a Fast Buck Album. He presented it to the group, who elected to release a different compilation. Later that year, the band Motörhead was recording their album Rock 'n' Roll in a recording studio owned by Michael Palin. Huge Python fans, they invited him down to perform a spoken-word piece on the record, and according to legend, Palin gave a copy of the unreleased Python album to the band. Eventually, it found its way onto the internet.
The first two Python tracks on the album are remixes of Terry Jones songs from the previous album. The first is a strange song called "Here Comes Another One." On Obligation, the singer insists that it'd be better with a full orchestra behind it. (It isn't.) The lost version is a parody of the strange synthesized score of A Clockwork Orange, making it even stranger. This is followed by a country version of "I'm So Worried," about a man who is, well, worried about everything. The Western twang suits the song, making it jazzier when compared to the classical accompaniment on the original version. This song was eventually released in 2006 as a bonus track, billed as a demo version. Fun, but not the end of the world had they remained lost.
Another track, "Mrs. Particle and Mrs. Velocity," is a sketch in which Eric Idle and Graham Chapman, as Pepperpots, discuss infectious diseases but digress into the scientific ramifications of grocery shopping when one is 16 times the size of Jupiter. Eventually they confuse themselves so deeply that they return to taking more quaaludes. This sketch was eventually released as an unlockable element to the Meaning of Life CD video game released in 1997.
"Otto and the Suicide Squad," a deleted scene from Life of Brian, sees Otto (Idle) meeting with Brian and commanding his squad of soldiers to (almost) commit suicide. In one paper made public recently from Palin's archives, Idle himself argues for the scene's deletion, saying, "I think Otto is definitely hurting the end of the film … Were it the funniest sketch in the world it would be worth fighting for, but since it is only fairly amusing my feeling is that we should cut it …" This, along with Otto's other scenes, were eventually released as a bonus feature on the Life of Brian DVD.
"Olympic Shopping," an Idle-led track, has remained completely unreleased. In it, Idle reports on a team of Olympic hopefuls in the realm of shopping. He speaks with their coach (Palin) and asks what he is most afraid of. Palin replies "my girlfriend's husband" before catching himself. We then hear a play-by-play over an actual shopping match, which ends with a German shopper winning the match by buying the entire store. This moves into "Bunn, Wackett, Buzzard, Stubble and Boot," a sketch from Cleese in which he uses a Scottish accent to give something like sports highlights, but it's actually just a random assortment of words. This sketch fits in very nicely here, but it's actually one of the oldest pieces from the trunk, dating back to Cleese's college days.
Some of the material indicates where the Pythons were heading next. A Palin sketch about a school's headmaster addressing the student body about a dead pupil would have been right at home in the school section of The Meaning of Life. Later, Terry Jones sings the "Accountancy Shanty" song written by Idle, an idea that would turn up again in The Crimson Permanent Assurance, the short film that preceded The Meaning of Life in theaters.
The second side is mainly comprised of traditional sketches. There's "Amputation," in which a man visits a doctor about having a leg removed, but finds a forgetful doctor, leaving him uneasy that he'll take the right one, or even just one. There are also more sketches taken from the past, including "Indian Restaurant," from a John Cleese special named How to Irritate People; "Adventure," from The Frost Report; and "Freelance Undertaker" and "Memory Training," which came from At Last the 1948 Show.
"Memory Training" features Cleese giving memory-training lessons to Chapman, who instructs him to associate everything he tries to remember with nude women. It has been updated slightly, like when Chapman announces he is going to ban this memory-training class because it is dirty and lists the towns "who know what's disgusting." (These also happen to be the same towns in Britain that banned Life of Brian from showing.) Here's a clip of Cleese performing the sketch with Idle in 2014:
In Palin's diary, he describes many of the pieces they recorded as "conventional sketches of Cleese and Chapman's … which are saved by good performances," which, on the whole, is accurate. While there's always a thrill in seeing unreleased material, one almost always arrives at the same conclusion as the creators when it comes to understanding why something was cut. With Palin's papers being catalogued, however, perhaps there is even more Python to discover to show the amount of work it took to make what they released as great at is.