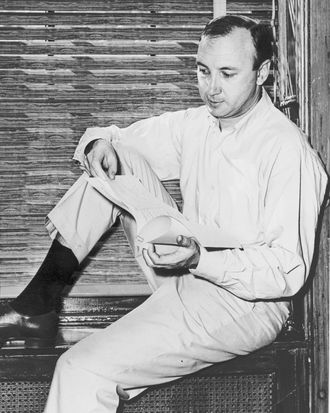 Neil Simon.
Photo: PhotoQuest/Getty Images
It is probably impossible for those theatergoers who didn't grow up with Neil Simon's plays to understand how big a deal he was in his prime, both to the theater and American pop culture. That was during the 1960s and 1970s when the phenomenal one-two punch of Barefoot in the Park (1963) and The Odd Couple (1965), which between them piled up about 2,500 performances in their original runs, was followed up by one smash Broadway hit after another. As the Simon assembly line quickly accelerated, his hit plays begat hit movies, which then begat television sitcoms, which sometimes begat additional television sitcoms. He wrote musicals too (the best is Little Me, as originally guided in 1962 by Bob Fosse), and Hollywood screenplays. For a while it was all Neil Simon all the time — remarkably so given that his mainstream branch of domestic comedy was in conflict with a culture, in theater and movies alike, that was moving fast in the opposite direction. As David Edelstein has pointed out, the savage married couples of Edward Albee's Who's Afraid of Virginia Woolf? preceded the winsome newlyweds of Barefoot to Broadway by a year.
One of the formative experiences I ever had as a young theatergoer was seeing Mike Nichols's original Broadway staging of Odd Couple with Walter Matthau and Art Carney as it tried out on its way to New York in my home town of Washington, D.C., when I was a teenage ticket-taker at the National Theater. My job allowed me to stand in the back of the house and watch it repeatedly. Even if my own taste was already evolving more toward Albee, it remains to this day the funniest production of anything I've ever seen in the theater. There was delicious slapstick, to be sure: The poker players chasing after the disconsolate, newly divorced Felix to make sure he didn't harm himself. But what made Simon's plays work at their best was not just the jokes but the universality of the neurotic relations he mined between men and women, men and men, and parents and children.
With the exception of his one great screenplay, for Elaine May's 1972 The Heartbreak Kid, an adaptation of a Bruce Jay Friedman story, it was not until his final successes — the autobiographical trilogy that began with the 1983 Brighton Beach Memoirs — that Simon fully acknowledged that implicit Jewishness of many of his characters. But those roots were always transparent, even when the lead roles were played by Robert Redford and Jane Fonda. For a good while this rich vein of comedy was American comedy, much of it incubated in the legendary writers rooms — celebrated in television's Dick Van Dyke Show, the film My Favorite Year, and Simon's own play Laughter on the 23rd Floor — of the prime-time sketch-based series produced by Max Leibman and starring Sid Caesar and Imogene Coca at network television's dawn in postwar America. The honor roll of alumni includes not just Simon but Mel Brooks, Woody Allen, Larry Gelbart, Carl Reiner, and Mel Tolkin, among many others.
Simon was arguably not the funniest of the group. He may have been the most compulsive. As the critic Walter Kerr, a Simon champion, once famously wrote of a lesser effort (the 1966 Star-Spangled Girl), "Neil Simon didn't have an idea for a play this year, but he wrote it anyway." There was often little quality control, especially when he worked with weaker directors in both theater and film, and it could be argued that each incarnation of a Simon play was inferior to the last until finally the material was stripped down to such lame stunts as a female Odd Couple and a black Barefoot.
Even in mint condition, it's not clear his best works can ever mean to contemporary or future audiences what they once did to a much-different America. When I've seen occasional revivals, I often wonder what my younger self found so brilliant even as I may admire the well-made craftsmanship of the dramaturgy. But then I remind myself of my first youthful marination in The Odd Couple. It was a hit from the get-go with critics and audiences during its gestation in Washington, but Simon and Nichols kept making changes, including in the play's ending, right up until it was time to pack up and move to the Plymouth Theater in New York. They not only found new laughs, but a certain pathos. Art Carney, unlike Jack Lemmon and his successors as Felix, really did seem like someone with vague suicidal thoughts brought on by the dissolution of his marriage, and somehow the most uproarious humor flowed from his suffering. Later on, Simon would literally adapt Chekhov to the stage (none too well), but in the original Odd Couple and here and there in his later works, he married a three-dimensional humanity to his genius for writing jokes. He deserves a second look from a new generation of directors and actors who might unlock the artist who moved so many Americans to laughter and even tears over an extraordinary run.