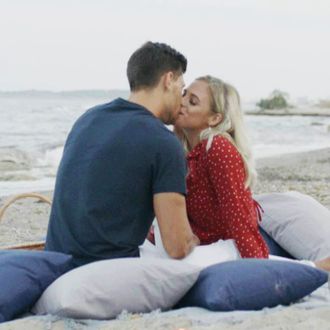 Photo: ITV/REX/Shutterstock/ITV/REX/Shutterstock
CBS has booked a trip to Love Island, snagging American format rights to the wildly popular U.K. dating series that's a mix of Bachelor in Paradise, Jersey Shore, and the Eye's own summer staple Big Brother. The network closed a deal with producers ITV Studios and Motion Content Group following intense bidding from multiple networks, a source familiar with the negotiations told Vulture. ITV Entertainment will produce the American version of the series, in which sexy singles shack up in a luxe seaside villa, swapping partners while stabbing each other in the back as they compete for the affections of both the other contestants and the at-home viewers who help determine a winning couple at the end of the season.
Love Island has turned into a massive ratings hit for ITV 2 since its 2015 debut. The recently wrapped fourth edition of the show ended with a series — and network — best 3.6 million viewers last month, while the season as a whole averaged 2.8 million viewers, or about 15 percent of the U.K. viewing population, according to the British ratings service BARB. That's about five times the audience as Love Island season one (517,000 viewers) and nearly triple what season two averaged (917,000 viewers). ITV has already sold international versions to multiple countries, and per multiple accounts, the company had sold a version of the show to MTV a year or two ago, but the deal got scrapped in the wake of executive shake-ups at MTV and parent company Viacom. (Ironically, it's quite possible CBS and MTV will once again be under the same corporate umbrella by the time Love Island launches on CBS, depending on the outcome of a current court battle between the two companies.)
While CBS hasn't locked in specifics of how and when Love Island will come to the States, it's expected the first season of the show will mirror the original and run between six and nine weeks in length, with multiple episodes — at least three, and possibly more — airing each week. The show airs six nights a week on U.K. digital network ITV2. American broadcast networks have been reluctant to turn over so much prime-time real estate to untested programs during the regular season, which makes it likely (though not certain) that Love Island will debut as part of CBS's summer 2019 lineup. If so, it would seem to pair well with Big Brother, potentially giving the network a powerful one-two ratings punch against traditional summer-ratings champ NBC. ITV 2 also produces not one but two weekly recap shows, and while it's too soon to say whether there'll be similar American spinoffs, it's easy to imagine CBS airing something similar on sister cable network Pop or its streaming service CBS All Access.
Whatever the final shape of CBS's Love Island, it's not a given the American version will match the success of the original. Plenty of U.K. smash hits — from The X-Factor to I'm a Celebrity Get Me Out of Here — have been lost in translation when U.S. networks tried to duplicate them. But CBS has a stellar track record of making European formats work: Both Survivor and Big Brother started out as overseas sensations before popping up here. In the case of Brother, it did require extra time and booting the U.K. production team to find a formula that clicked with American audiences. Still, in both cases, it worked: The two shows are among the longest-running shows on American prime-time TV, with both now in their 18th year of production.