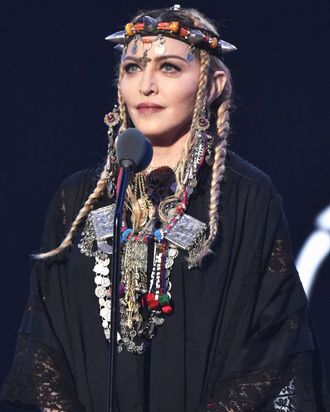 Photo: John Shearer/Getty Images for MTV
One of the lows of this year's VMAs was Madonna conjuring up some kind of "tribute" to the dearly departed Aretha Franklin. Madge pontificated, among other unhinged musings, on how she used to be a "skinny-ass white girl" from Detroit who once managed to have a successful audition to Franklin's seminal song "(You Make Me Feel Like) A Natural Woman." Oh, and that she used to live on the third-floor of crack house and be frequently mistaken for a prostitute! It came off more as Madonna paying tribute to Madonna as opposed to the Queen of Soul, details of which Madge would now like to clarify. To sum up: No, it was not a tribute, and even if it was a tribute, we're to blame because of our attention-span problems.
"I was asked to present video of the year by MTV," Madonna wrote on Instagram. "And then they asked me to share any anecdotes I had in my career connected to Aretha Franklin! I shared a part of my journey and thanked Aretha for inspiring me along the way. I did not intend to do a tribute to her! That would be impossible in two minutes with all the noise and tinsel of an award show. I could never do her justice in this context or environment. Unfortunately most people have short attention spans, and are so quick to judge. I love Aretha! R.E.S.P.E.C.T."
More like A.N.E.C.D.O.T.E.