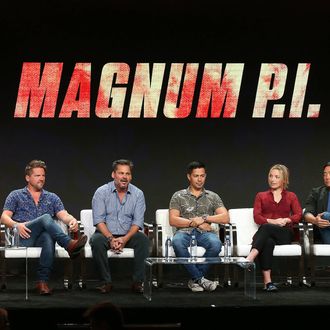 Photo: Frederick M. Brown/Getty Images
While at a Television Critics Association panel Sunday, the cast and creators of CBS's Magnum P.I. reboot were asked how the Latino identity of the new Magnum lead, a role originated by Tom Selleck and now played by actor Jay Hernandez, would be incorporated into the show. "We're certainly not denying the fact that he's Latino. It is something that is acknowledged, and we plan to acknowledge it throughout the series," executive producer Eric Guggenheim said, according to Variety. When asked whether any Latinx people would be helping the show do that acknowledging from the writers room, however, executive producer Peter Lenkov said that the show's writers, while a "very diverse" group of people, don't currently count a Latino or Latina person among them. "Not for any reason other than when staffing a show, it's incredibly hard to find writers," he explained per Deadline.
The question's asker, writer Yolanda Machado, subsequently tweeted about her question and a pattern she sees developing as more and more shows get resurrected. "I asked this bc I am so tired of all these reboots casting POC but omitting how their culture affects/changes the character. I LOVE that Jay Hernandez is Magnum, but not allowing his culture to influence #MagnumPI- is a HUGE disservice. " Machado wrote, adding "PS: 2018 & no #Latinx writers? WTF." To read about a writers room comprised entirely of Latino and Latina people, click here to read about the Starz series Vida.